U.S. Supreme Court Grants Huge Free Speech Win for Pregnancy Resource Centers in California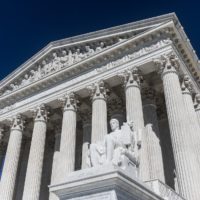 In a close 5-4 decision on Tuesday in National Institute of Family & Life Advocates v. Becerra, 2018 U.S. LEXIS 4025, the U.S. Supreme Court held that the State of California violated the First Amendment by requiring licensed Crisis Pregnancy Centers (CPCs) to post notices referring women to state-provided services, including abortion clinics. The Court also held that California violated the First Amendment by requiring unlicensed centers to post notices to the effect that they were not medically-licensed. Please click here to read NIFLA's summary of the decision, and click here to read ADF's summary. Please reach out to H. Robert Showers, Esq. at hrs@simmsshowerslaw.com, or call our firm at 703-771-4671, for more information on how this landmark decision may impact CPCs or Pregnancy Resource Centers (PRCs) in other states.
Disclaimer: This memorandum is provided for general information purposes only and is not a substitute for legal advice particular to your situation. No recipients of this memo should act or refrain from acting solely on the basis of this memorandum without seeking professional legal counsel. Simms Showers LLP expressly disclaims all liability relating to actions taken or not taken based solely on the content of this memorandum. Please contact Robert Showers at hrs@simmsshowerslaw.com or Justin Coleman at jrc@simmsshowerslaw.com for legal advice that will meet your specific needs.