Seminars
Sexual Abuse Summit
H. Robert Showers, Esq. – Keynote Speaker
Location: Forth Worth, TX – Christ Chapel Bible Church
Date: October 23, 2018
Time: 7:30am – 5:15pm
For nearly a decade, child sexual abuse has been the number one reason ministries have ended up in court. Child sexual abuse is devastating to the victim, the victim's family, the congregation and the church itself, creating negative public perception and significant financial loss.
The Sexual Abuse Summit provides leaders with essential information and resources, empowering attendees with proactive safeguards to protect children and equip ministry personnel. Rob Showers, one of the keynote speakers, will be addressing attendees on the legal implications of sexual abuse within the church.
For more information about the event, please visit the Summit's website: http://sexualabusesummit.com/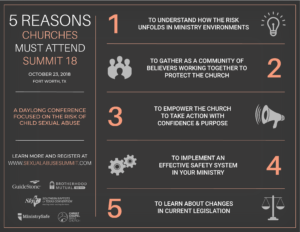 ---
TRACS Conference: "Let Us Not Grow Weary"
H. Robert Showers, Esq. – Keynote Speaker
Location: Hyatt-Regency, Dallas-Fort Worth Airport
Date: Friday, November 2, 2018
The Transnational Association of Christian Colleges and Schools hosts their annual conference in Dallas, TX from October 31-November 2. The conference provides opportunities for members of the Christian academic community to attend a variety of informative workshops, showcase their institutions, and interact with colleagues.
For more information, and to register for the event, please visit http://www.tracs.org/conference_2018/index.html.