Seminars
Rob Showers will speak as the Christian Legal Society welcomes ministers, church executive pastors, and other church leaders for a special Pastors' Forum on Friday, November 1, 2019, in conjunction with the 2019 CLS National Conference in Chicago. As a national grass-roots organization, we seek to equip church ministry personnel with legal guidance and support through this special learning opportunity provided by leading Christian attorneys. The Pastors' Forum will include the following: (a) morning welcome session; (b) the conference religious liberty plenary session featuring nationally renowned attorneys including Rob Showers providing updates and insights; (c) lunch together with a Q & A attorney panel who will address key legal issues for church leaders; (d) two afternoon workshop sessions, with options including child protection systems, nonprofit employment law, effective investigations, and cybersecurity; and (e) late afternoon plenary session with Dr. Mark Jobe, the senior pastor and president of Moody Bible Institute.
https://www.christianlegalsociety.org/featured-pastors2019
In this podcast with Dr. Drumm McNaughton of The Change Leader, Rob Showers discusses how sexual harassment complaints used to be handled, particularly within the context of higher education, and how recent cultural shifts will radically adjust "how things have always been." Rob also discusses how institutions of higher education should adapt to the new cultural paradigm.
Source: https://thechangeleader.com/universities-government-battle-sexual-abuse-with-rob-showers-changing-higher-ed-017/
---
Sexual Misconduct Summit – SC Baptist Convention
Location: Columbia, SC
Date: March 12, 2019
http://www.scbaptist.org/sexualmisconductsummit
---
Gospel Rescue Mission Fellowship – Spring Conference
Location: Wilmington, DE
Date: Friday, March 29, 2019
https://www.gospelrescuemissionfellowship.org/conference.html
---
NIFLA 2019 National Legal & Medical Summit
Location: VA Beach, VA
Date: May 21, 2019
http://www.niflalegalmedicalsummit.com/
---
CLS National Conference
Location: Chicago, IL
Date: October 31 – November 3, 2019
https://www.christianlegalsociety.org/conference
---
Sexual Misconduct Summit – Mount Ararat Church
Location: Stafford, VA
Date: October 17, 2019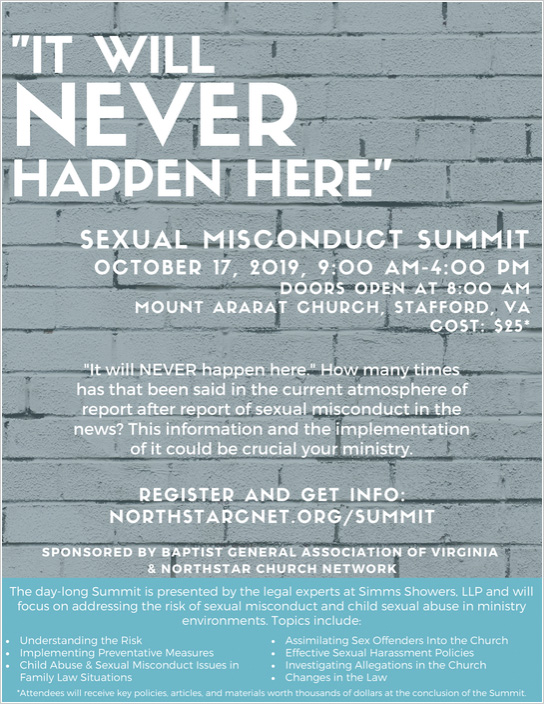 ---
Legal Seminar – Third Church
Location: Richmond, VA
Date: October 19, 2019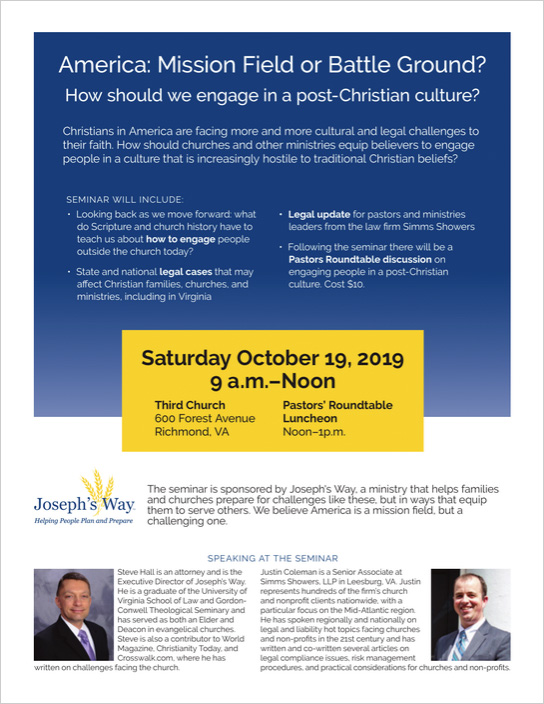 ---