Jury Exonerates Loudoun County Sheriff's Deputy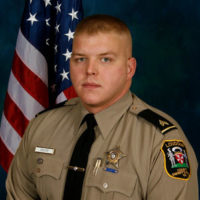 On November 16, 2016, a jury in Loudoun County, Virginia exonerated John Wayne Gregory of all wrongdoing, returning a verdict of not guilty on the charge of assault and battery. In August 2015, Loudoun County Sheriff Deputy Gregory was charged following an incident with Lyle Grenoble, a man he arrested for public intoxication.
After the arrest, Mr. Gregory transported the arrestee to the Loudoun County jail. As the arrestee exited the police vehicle, Mr. Gregory testified that the arrestee exhibited numerous threatening gestures, that he felt the arrestee push into him, and that he saw an "I'm going to kill you" look on the arrestee's face. Mr. Gregory testified that based on his training and experience with thousands of inmates and arrestees, he quickly recognized the immediate threat to his personal safety. Acting in self-defense, Mr. Gregory used the arrestee's momentum to bring him to the ground in a controlled take-down maneuver, as he was taught in police academy. The arrestee testified to only minimal, superficial injury as a result of the take-down.
Mr. Gregory's use of force was reasonable and well within the bounds of his police training, testified Bryan Patterson, a veteran police instructor in Northern Virginia. Under the circumstances, Mr. Gregory would have been justified in using an even higher level of force than he utilized on the arrestee.
"This is a victory for our deputies who work our streets and protect us in the face of danger each and every day," said Mr. Gregory's lead attorney, Caleb A. Kershner. "Second guessing our law enforcement except for excessive misconduct only handcuffs their ability to protect and defend us in the community. John was well-trained and acted according to his police academy training. Our citizens should be proud to have him protecting them."
Mr. John Gregory was represented by Caleb Kershner, Esq. and Elyse Smith, Esq. of Simms Showers LLP.
For further inquiries, please contact Caleb A. Kershner, Esq., of Simms Showers LLP at (703) 771-4671
Related news coverage:
November 17, 2016: Jury Exonerates Loudoun County Deputy Accused of Assault During Arrest
November 17, 2016: Ex-Loudoun deputy acquitted of assault for body-slamming handcuffed man
November 17, 2016: Loudoun Jury Clears Loudoun Deputy of Assaulting Prisoner
December 18, 2015: Video showing former Loudoun Co. deputy body-slamming suspect released
December 18, 2015: Loudoun deputy who body-slammed handcuffed man is convicted of assault