Five Important Rights In Federal Court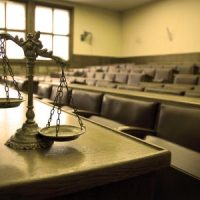 Federal prosecutors are very aggressive, and they have almost unlimited resources to back up their aggressive attitudes. Usually, the only protection defendants have against powerful prosecutors are in the Bill of Rights. The first ten amendments to the U.S. Constitution include important rights for defendants in criminal court.
These important rights could be the difference between a harsh conviction and a favorable outcome in a federal criminal case. But these rights are only ink on paper unless a Manassas criminal defense lawyer stands up for them in court. Federal prosecutors are eager to work their way up the corporate ladder by convicting as many defendants as possible, and they have the resources to make that happen. A good lawyer is essential in this environment.
Search and Seizure Protection
These rights begin before a case goes to court. During police investigations, the Fourth Amendment protects suspects from unreasonable searches and seizures.
Searches are only reasonable if an officer has a warrant based on a probable cause affidavit or a narrow search warrant exception, like consent or plain view, applies.
If officers violate the Fourth Amendment, a Manassas criminal defense lawyer can use the exclusionary rule to get any contraband seized, like guns or drugs, thrown out of court.
The Right to Remain Silent
This right kicks in almost as soon as the Fourth Amendment right. If suspects don't feel free to leave, they don't have to answer questions, even if these questions are seemingly unrelated to the reason for the investigation.
Additionally, the broad Fifth Amendment means suspects don't have to pose for pictures, blow into Breathalyzers, or appear in lineups.
Freedom isn't free. Officers almost always arrest suspects who assert their Fifth Amendment rights. However, if an investigation has reached that point, an arrest was probably inevitable, regardless of what the suspect did or didn't do.
Right to Counsel
As soon as prosecutors file legal paperwork, the Sixth Amendment's right to counsel applies. Frequently, defendants can choose between a court-appointed lawyer and a private Manassas criminal defense lawyer.
A private lawyer is usually best, mostly because defendants choose their own lawyers in these situations. Courts randomly assign court-appointed lawyers to defendants. Most likely, these lawyers are competent and experienced. But there's simply no way to know for sure.
Confront Witnesses
In most cases, defendants have the right to eyeball accusing witnesses in court. This is an important right which shouldn't be overlooked.
We deal with this issue almost every day. Jack might say almost anything about Jill on social media. But if Jack and Jill are in the same room, Jack will watch what he says. Additionally, Jill's lawyer has an opportunity to cross-examine Jack in these situations.
Public Trial
Don't overlook this important right either. Many advocates criticize plea bargains, which resolve most federal criminal cases, because they are essentially private trials. Defense lawyers and prosecutors state their claims and defenses to each other, and then they try to reach an agreement.
Public trials are different. Everyone is on their best behavior when they know someone else is watching. So, this Sixth Amendment requirement gives defendants an additional layer of protection.
Reach Out to a Thorough Loudoun County Lawyer
There's a big difference between an arrest and a conviction in criminal law. For a free consultation with an experienced criminal defense attorney in Manassas, contact Simms Showers, LLP, Attorneys at Law. The sooner you reach out to us, the sooner we start fighting for you.