When Does Passing Another Vehicle Become Reckless Driving in Virginia?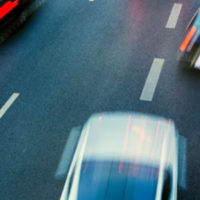 Across the Commonwealth of Virginia, is it unlawful to engage in reckless driving that puts other people or property in danger. In addition to this general rule, there are also more specific laws against reckless driving, in order to preserve public safety of state roadways.
For example, Virginia law prohibits drivers from passing other vehicles under certain circumstances. Any driver who violates these laws is guilty of reckless driving and potentially subject to criminal charges for a misdemeanor or felony offense.
To avoid reckless driving charges, all Virginia drivers should refrain from passing other vehicles in the four situations described below. Though it should be noted at this juncture that all drivers in Virginia must obey the directions of law enforcement officers — even if those directions would otherwise result in a violation of reckless driving or other traffic laws.
Passing Other Vehicles on Grades or Curves
Code of Virginia Section 46.2-854 prohibits drivers from passing or overtaking other vehicles when approaching a graded hill or curve on a highway. If the driver's view is obstructed by the grade or curve, it is unlawful to pass other vehicles.
However, there are several exceptions to Section 46.2-854. If a driver is traveling on a highway with two or more lanes — or on certain designated one-way roadways or highways — then it is permissible to pass other vehicles.
Passing Two Vehicles at the Same Time
Code of Virginia Section 46.2-856 prevents drivers from passing two other vehicles at the same time, if the other vehicles are traveling in the same direction. Though this requirement does not apply to highways with three or more lanes in each direction, or specifically designated roadways and highways.
Passing Other Vehicles at Railroad Crossings
Code of Virginia Section 46.2-858 bars drivers from passing another vehicle at a railroad crossing, if the other vehicle is traveling in the same direction. This requirement also prevents drivers from passing other vehicles traveling in the same direction at a highway intersection.
On the other hand, Section 46.2-858 does allow drivers to pass other vehicles if they are in a designated passing zone or a multi-lane highway.
Passing Stopped School Buses
Code of Virginia Section 46.2-859 requires all drivers to stop when approaching a school bus that is picking up or dropping off passengers. This requirement applies on highways, private roads, and school driveways. Though if the school bus is operating on a divided highway or similar roadway.
Furthermore, this section only applies to officially marked school buses with proper warning devices and the following types of passengers:
Children;
Elderly individuals;
Mentally disabled individuals; or
Physically handicapped individuals.
Do You Need Legal Help?
If have legal questions about reckless driving charges in Virginia, it can be extraordinarily beneficial to contact an adept criminal defense attorney. The Winchester reckless driving attorneys at Simms Showers LLP have vast legal experience with reckless driving charges across Virginia. If you need legal help with reckless driving or other aspects of criminal defense, contact us today for a free initial consultation.
https://www.simmsshowerslaw.com/virginia-reckless-driver-kills-4-injures-7-in-church-van-crash/