Police Raids Deal Major Blow to Virginia Drug Trafficking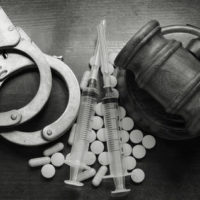 A coordinated raid by federal and state authorities shut down a drug trafficking organization operating out of Portsmouth, as reported by The Virginian-Pilot. Authorities believe this drug ring trafficked more than 80 kilograms of cocaine as well as 100 kilograms of heroin and fentanyl in a decade.
At least 300 police officers participated in the raid, combining resources from the Chesapeake and Portsmouth Police Departments, Virginia State Police, Homeland Security, FBI, and other agencies. The raids were conducted in the states of Georgia, New York, and Virginia. According to law enforcement, the drug ring supplied a notorious street gang with more than 250,000 doses of illegal drugs.
Concerning Virginia, specifically, police arrested seven suspects in Hampton Roads. All seven are awaiting hearings in federal court. But authorities are still looking for two suspects in connection with the raids.
In light of this news story, we will engage in a review of Virginia laws concerning drug trafficking.
How Does Virginia Law Handle Drug Trafficking?
Code of Virginia section 18.2-248 outlines the considerations for drug trafficking. This section includes the actual manufacture, sale, or distribution of illegal drugs as well as possession with intent to manufacture, sale, or distribution. Virginia law relies on Schedules I and II of the Controlled Substances Act to define illegal drugs.
Essentially, Virginia law makes it a crime to manufacture, sell, or distribute Schedule I/II substances – such as heroin, cocaine, and fentanyl. Additionally, Virginia law makes it a crime to possess Schedule I/II substances with the intent to manufacture, sell, or distribute.
If a person violates Section 18.2-248, the penalties are severe. The first offense carries a maximum of 40 years in prison and $500,000 in fines. The second offense requires at least five years in prison, with the possibility of a life sentence. And the penalties escalate for convictions involving larger amounts of illegal drugs.
Drug trafficking crimes involving at least 500 grams of cocaine, 100 grams of heroin, or 10 grams of methamphetamine are felonies. The sentencing requirements are fines up to $1 million and prison terms of five years to life.
Section 18.2-248 also outlines a specific exception concerning the manufacture of methamphetamines. In addition to the standard sentencing regulations outlined above, anyone who manufactures methamphetamines is also responsible for any damage caused to other people's property.
Do You Need Legal Counsel from a Knowledgeable Criminal Defense Lawyer?
Drug crimes and other criminal offenses carry harsh penalties and the possibility of jail time. Given the weight of such consequences, it is extremely important to obtain legal counsel from a knowledgeable criminal defense lawyer. Otherwise, you may be taking unnecessary risks concerning your financial and personal liberty.
Whether you are facing charges for drug crimes or other criminal offenses, know that Simms Showers LLP is available to help you. Our attorneys can help you navigate the ins and outs of the criminal justice system. Simms Showers LLP provides a free consultation to clients concerning criminal charges. You can reach us by calling 703-997-7821 or by completing an online form.
Resource:
pilotonline.com/news/local/crime/portsmouth-drug-ring-put-k-doses-of-heroin-fentanyl-on/article_82d3efd0-7e78-53b6-9cb9-90f1734f1552.html