Daniel J. Hebda, Esq.
Associate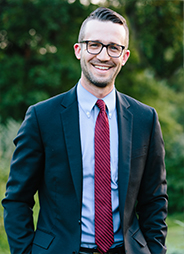 Daniel J. Hebda is an Associate in the D.C. Metro office of Simms Showers LLP. Mr. Hebda regularly practices in several jurisdictions in Northern Virginia, including Loudoun County, Fairfax County, Prince William County, and Frederick County. Mr. Hebda spends the majority of his time litigating a variety of cases. Mr. Hebda primarily handles personal injury cases such as car accidents, pedestrian/bicycle accidents, and slip and falls, as well as employment lawsuits involving wrongful termination, workplace discrimination, and unpaid overtime. Mr. Hebda also handles complex litigation involving business disputes, church splits, defamation, contract breaches, and fraud. He has successfully won and negotiated many lawsuits and uses his litigation experience to advise non-profit organizations, churches, and small businesses in the areas of employment, incorporation, and tax-exemption.
Practice Areas
Civil litigation
Business litigation
Employment Law
Transactional Law
Non-Profit Law
Church Law
Admissions and Memberships
Virginia, 2011
United States District Court, Eastern District of Virginia, 2012
United States District Court, Western District of Virginia, 2012
Christian Legal Society
Young Lawyer Association of Virginia
Education
Regent University School Of Law J.D, 2011

Moot Court Board, Member
International Law Journal, Managing Editor

Patrick Henry College, B.A., Government – Political Theory, 2008
Contact the Leesburg Attorneys at Simms Showers LLP today
We offer a FREE PHONE CONSULTATION for criminal or personal injury cases. Contact Simms Showers LLP for quality legal counsel today.