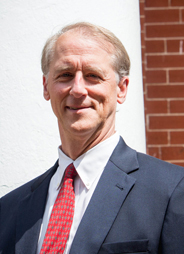 H. Robert Showers, Esq.
Managing Partner
Robert Showers is founder and managing partner of the DC Metro and Virginia firm of Simms Showers LLP with offices throughout the Mid Atlantic. Prior to forming Simms Showers in 2002, Attorney Showers was a managing owner of a Washington DC Metro area firm for 13 years where he headed up the litigation and appellate departments practicing in similar areas of law. He is a nationally recognized expert in church and nonprofit law as well serving hundreds of churches and nonprofits throughout the US. Prior to going into private practice he was a federal prosecutor, founded the Child Exploitation and Obscenity Section at the US Dept of Justice, and handled a variety of complex civil litigation cases as Chief of Civil section in the US Attorney office in Raleigh, NC.
Practice areas
Commercial and civil litigation
Personal injury
Non-profit and church law
Small Business and Mergers and Acquisitions
Risk Management and preventive law
Intellectual property (trademarks, copyrights and licensing)
Constitutional law
Employment law
Education
Wake Forest University, J.D., 1980 (National Moot Court Justice and WF Law Review)
Wake Forest University, B.A., cum laude, 1977
Admissions
Virginia, 1992
North Carolina, 1980
District of Columbia, 1998
Maryland, 2001
U.S. Supreme Court
U.S. Courts of Appeals for the Third, Fourth, Seventh and District of Columbia Circuits
U.S. District Courts for the Eastern and Middle Districts of North Carolina
Eastern District of Virginia
U.S. Court of Federal Claims
U.S. Court of Military Appeals
Professional affiliations
Founder and Board member of the National Law Center for Children and Families (1991-present)
Christian Legal Society, Board Member (1994-present and Past National President and local chapter president)
Center for Law and Religious Freedom, Vice Chair
Civic and Community Involvement
Co- Founder and Elder of Gateway Community Church
Every orphan's Hope (Board and Secretary)
Hope Force international (Board and Secretary)
International Business as Mission (IBAM) as Board and Secretary
Helped start three church plants in NC and VA
Served on the Boards of the National Southern Baptist Convention.
Contact the Leesburg Attorneys at Simms Showers LLP today
We offer a FREE PHONE CONSULTATION for criminal or personal injury cases. Contact Simms Showers LLP for quality legal counsel today.