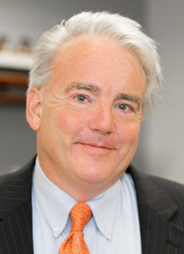 J. Stephen Simms
Principal
Steve Simms is a Principal of the Firm. His practice concentrates in complex civil and bankruptcy litigation for both defendants and plaintiffs, businesses and individuals, including maritime and intermodal transportation litigation and casualty claims, intellectual property and computer law, antitrust, directors and officers' liability, insurance coverage, and civil False Claims Act litigation. Mr. Simms' practice is international in scope, assisting and advising businesses and individuals on international distribution and export of their products and services. Mr. Simms was selected for the U.S. Department of Justice, Attorney General's Program for Honor Law Graduates and served as a Trial Attorney for the Department of Justice, Antitrust Division until he entered private practice.
Practices
Complex Civil and Bankruptcy Litigation
Mr. Simms has successfully defended a range of complex business and insurance coverage disputes , including a $4 million lender and directors' and officers' liability civil racketeering claim, $5 million suit alleging civil racketeering and legal malpractice after a financial institution collapsed, and defense of the former Chief Financial Officer of Maryland's largest health insurer in a $50 million action brought by that insurer's subscribers. He continues to be involved in defense and prosecution of antitrust disputes involving alleged price fixing and market allocation, and patent abuse.
Closely related is Mr. Simms' work with complex national and international bankruptcy litigation. Mr. Simms has represented clients in each major, recent United States maritime bankruptcy; including the world-wide bankruptcies of prominent international steamship lines and marine fuel suppliers. He has also participated in major international bankruptcies involving Canadian, United Kingdom, Dutch, Venezuelan, Singapore and Brazilian bankruptcy proceedings. His reported opinions in bankruptcy include the first to determine the legal standard for post-petition "use and benefit" of marine containers under 11 U.S.C. §365(d)(10) and the first determining who is an "officer" under 11 U.S.C. §101(31) for the purpose of recovering preferences under the U.S. bankruptcy laws.
Casualty Defense
He has successfully defended a range of corporations and individuals in connection with personal injury, cargo, and property damage, including one of the tug owners involved in a multi-vessel collision on the Chesapeake and Delaware Canal and the defense of wrongful death and injury suits brought against a marine surveyor alleging failures to detect defects in a charter fishing boat that capsized in the Chesapeake Bay.
Vessel Arrest
Mr. Simms' maritime practice also emphasizes the arrest of vessels world- wide and has recovered over U.S. $25 million for clients as the result of ship arrest and maritime attachment proceedings in India, Chile, Japan, at the Panama Canal, the Canary Islands, Guam, New Zealand, Israel, Houston, New Orleans, Savannah, Ft. Lauderdale, Jacksonville, Baltimore, New Jersey, and New Haven.
Civil False Claims Act
("Qui Tam") Litigation
Mr. Simms is recognized as one of the nation's leading lawyers working in the area of civil False Claims Act litigation. Simms Showers currently represents whistle blower clients in a significant number of ongoing False Claims Act and related cases, alleging health care, defense contracting and education loan fraud.
Admissions
United States Supreme Court
United States Court of International Trade
United States Courts of Appeal:
District of Columbia Circuit
Court of Federal Appeals
Second Circuit
Third Circuit
Fourth Circuit
Fifth Circuit
Seventh Circuit
Ninth Circuit
Eleventh Circuit
United States District Courts:
Northern District of Illinois
District of Maryland
District of Columbia
Court of Federal Claims
States Courts:
Maryland
District of Columbia
Education & Experience
Northwestern University School of Law (J.D.) Journal of International Law and Business, Editor-in-Chief, Outstanding Editor

Trial Attorney, Attorney General's Program for Honor Law Graduates, United States Department of Justice, Washington, D.C. and Chicago, Illinois

Johns Hopkins University School of Advanced International Studies (M.A.)
Johns Hopkins University (B.A., International Studies)
Leadership and Bar Associations
Chair, Legal Working Group, International Bunker Industry Association ("IBIA"); Board member emeritus
Legal Advisor, SEA/LNG, the industry group for LNG bunkering
Elder, St. Moses Church, Baltimore
Board Member, First Fruits Farm, Freeland, Maryland
Member, Maritime Law Association of the United States, Southeastern Admiralty Law Institute ("SEALI"), Maryland State Bar Association, Christian Legal Society
Community Leadership
Mr. Simms is a member of the Maryland Department of Transportation Private Sector Port Committee, lectures for the Maryland World Trade Center Institute, and serves as an Elder of Central Presbyterian Church, Baltimore.
Publications
Credit Where Credit's Due (A Detailed Discussion of Bunkers and Credit), Bunkerspot | April 2021
In the Loop – Scrubber Law for Bunker Providers, Bunkerspot | January 2021
Fit for Purpose – Future Fuels and Contracts, Bunkerspot | September 2020
Unseen enemy (Cybersecurity and Pandemic), Bunkerspot | May 2020
LNG Bunker Terms – Developing Effective LNG Bunkering Terms and Conditions, Bunkerspot | March 2020
FONAR Compliance: Getting it Right, Bunkerspot | November 2019
Bunker Blending Liability: Cut to the Chase, Bunkerspot | May 2019
Bunker Claims Deadlines: Timed Out?, Bunkerspot | January 2019
BIMCO Bunker Terms 2018, Bunkerspot | September 2018
Bunker Delivery Notes (BDNs): Thinking Outside the Box, Bunkerspot | March 2018
Holding pattern: How the US is detaining seafarers, TradeWinds | February 2018
Time Lapse: Today's Lessons Continue from the OW and Hanjin Insolvencies, Bunkerspot | October 2017
Digital Bunker Delivery Notes ( BDNs / BDRs): Trash the Paper!, Bunkerspot | August, 2017
Enforcement of 2020 Sulfur Limits: Bunker Traders and Suppliers in the Crosshairs – Game On, Bunkerspot | August 2017
Effective Chapter 15 Strategies for Marine Equipment Lessors and Maritime Lien Creditors, Bankruptcy Litigation | April 25, 2017
Post-truth: Make Bunkering Great Again, Admiralty and Maritime | February 22, 2017
Effective Economic Disincentive and 2020 .5% Sulphur Cap Enforcement, Admiralty and Maritime | December 14, 2016
Hanjin and the "Titanic Effect", Bunker Bulletin | Winter 2016-17: 22-25
Hanjin, OW and Preparing for the Next Unthinkable Sinking, The Maritime Executive | 12 Oct 2016
OW, Lions, and Last-ING Appetite, Bunker Bulletin | Summer/Autumn 2016: 18-20
Hanjin, OW and Preparing for the Next Unthinkable Sinking, Ship & Bunker | 13 Oct 2016
Not in Kansas Anymore, Bunkerspot News | 29 Feb 2016
An Equitable Share, Bunkerspot | Feb-March 2016
Comparing Notes, Bunkerspot | Dec 2015-Jan 2016
Direction of Travel: MARPOL VI Regulations, Bunkerspot | Dec 2015-Jan 2016
All in the Detail, Bunkerspot | Oct-Nov 2015
Common Purpose, Bunkerspot | Aug-Sept 2015: 35-39
Tactical Thinking, Bunkerspot | June-July 2015: 64-67
Terms of engagement, Bunkerspot | April-May 2015: 54-59
Breakdown cover, Bunkerspot | Feb-March 2015: 54-57
Look and learn, Bunkerspot | Dec 2014-Jan 2015: 44-47
Burden of proof, Bunkerspot | Oct-Nov 2014: 42-46
Safe house, Bunkerspot | April-May 2014: 30-33
Quick off the mark, Bunkerspot | Aug-Sept 2013: 46-47
Legal minefield,  Bunkerspot | June-July 2013: 37-39
Evaluating Credit Risks by Effective Maritime Recovery Planning, Dynamar-Journal of Commerce Symposium on Maritime Credit Risk Management, N.Y., N.Y. (1996)
US Trade Sanctions Against Iran Can Cause Major Problems for Bunker Suppliers, Bunkerspot (Vol. 10 No. 3, June/July 2013)
Identifying, Bringing, and Winning a False Claims Act Case, 1997 ABA Annual Meeting
Using the False Claims Act for Competitive Advantage, Maryland Bar Journal 28 (Jan-Feb 1997)
Homeowner's Insurance, Directors and Officers' ("D&O") Liability Coverage, Insurance Law: Third Party Coverage in Maryland (Nat'l Business Inst. 1996)
Insurance Requirements in AIA Contracts, ABA-TIPS 1996 National Institute on Insurance Coverage for Defective Construction
The Internet: International Civil and Criminal Liability, Maryland Bar Journal 36 (Sept-Oct 1996)