What is the Difference Between Divorce & Annulment in Virginia?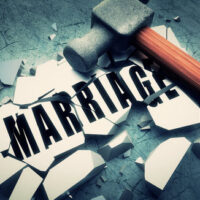 Even though marriage is supposed to last forever, Virginia family law provides several options for a couple to end their union. In certain cases, one spouse may be able to pursue an "at-fault" divorce against the other spouse. In other cases, the spouses reach a mutual decision to pursue a "no-fault" divorce. And in situations where the marriage itself was invalid for some reason, an annulment may be appropriate.
At-Fault Divorce
Code of Virginia Section 20-91 establishes the regulations for "at-fault" divorces. In these situations, one of the spouses did something that allows the other spouse to file for divorce. The grounds for an at-fault divorce in Virginia include:
Adultery — If one spouse had sexual relations outside of the marriage;
Sodomy or Buggery — But only if committed outside of the marriage;
Felony Conviction — If one spouse was convicted for a felony and sentenced to at least one year of imprisonment;
Cruel Treatment — If one spouse treats the other spouse in a cruel fashion or creates a reasonable apprehension of imminent harm; or
Desertion or Abandonment — If one spouse deserts or abandons the other spouse, without any indication of return or reconciliation.
In order to obtain an at-fault divorce, a spouse must prove one of the legal grounds above in a court of law. This is a way to obtain a contested divorce in Virginia, where one spouse wants to split up but the other wants to stay together.
No-Fault Divorce
Section 20-91 also provides the rules for "no-fault" divorces in Virginia. For this type of divorce, it is not necessary to prove any legal grounds. Rather, both spouses reach a mutual decision to pursue a divorce and end their marriage.
It is common for no-fault divorces to involve a marital separation agreement, where the spouses outline the terms of their separation and ultimate divorce. In order to obtain a no-fault divorce in Virginia, a married couple must live apart without cohabitation for:
12 months — If the spouses have minor children together, whether natural or adopted; or
6 months — If the spouses do not have minor children together and executed a marital separation agreement.
Annulment
Code of Virginia Section 20-89.1 details the procedure for obtaining an annulment. Unlike divorce — which technically allows for any spouse to end their marriage — annulment is only available for void or voidable marriages. Essentially, an annulment is appropriate where the underlying marriage was invalid for one or more reasons.
In order to obtain an annulment, a spouse must demonstrate that:
One spouse forced the other spouse to marry under fraud or duress;
The marriage did not follow the license or solemnization requirements;
One spouse was still married to someone else;
The marriage was between a brother and a sister, an uncle and a niece, or an aunt and a nephew.
Do You Need Legal Help?
If you have legal questions about divorce, annulment, or other aspects of family law in Virginia, it can be extraordinarily beneficial to reach out to a trusted family law attorney.  The Leesburg family & divorce attorneys at Simms Showers LLP feature proven capabilities in matters of Virginia family law, including divorce and annulment. If you need legal help in this domain, contact us today for an initial consultation.
https://www.simmsshowerslaw.com/what-are-the-different-grounds-for-divorce-in-virginia/