Virginia Police Officer Faces Reckless Driving Charges for Excessive Speeding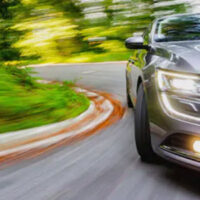 A Virginia police officer from Augusta County faces charges for reckless driving after excessively speeding while responding to a crime, according to an article by NBC 12.
This incident occurred on Sunday, January 5th, at approximately midnight. That is when police officers mobilized to respond to reports of an alleged armed robbery at a gas station on Stuarts Draft Highway. One of those officers never made it to the scene of this alleged crime, however.
While traveling on Augusta Farms Road toward the gas station, this police officer lost control of his vehicle. The vehicle veered off the road and rolled over multiple times before coming to a halt. The police officer was trapped in the vehicle until emergency personnel arrived at the scene of the accident.
Emergency personnel transported the police officer to Augusta Health for immediate medical treatment. The officer received treatment for multiple cuts and lacerations as well as a broken arm. But ultimately, medical staff deemed the officer stable enough for release. Consequently, the police officer is expected to recover fully.
The Virginia State Police conducted an investigation into this car accident. As a result of that investigation, the police officer in question now faces criminal charges for excessive speeding, which is a version of reckless driving. In light of this news story, it seems like an opportune moment to review the Virginia definition of and punishment for reckless driving.
What is the Virginia Definition of Reckless Driving?
Code of Virginia Section 46.2-852 establishes the general definition of reckless driving. Under this section, reckless driving occurs whenever a person operates a vehicle in a dangerous way that creates a risk of property damage, physical injury, or death.
More specifically, Virginia law also outlines numerous types of conduct that qualify as reckless driving. For example, excessive speeding can result in reckless driving charges under Code of Virginia Section 46.2-862. A person commits reckless driving under this section if they operate a motor vehicle:
At least 20 miles per hour above the legally posted speed limit; or
More than 80 miles per hour regardless of the legally posted speed limit.
What is the Virginia Punishment for Reckless Driving?
Code of Virginia Section 46.2-868 details the punishment for reckless driving. Under this section, reckless driving is typically a Class 1 misdemeanor. The maximum punishment for this level of misdemeanor includes 12 months in jail and $2,500 in criminal fines.
On a related note, reckless driving also leads to license suspension under Code of Virginia Section 46.2-392. Based on the circumstances of the offense — and the number of previous reckless driving convictions, if any — the driver's license suspension period can range between 10 days and six months.
Let Us Help You Today
If you need legal help with reckless driving charges in Virginia, it can be highly favorable to speak with a knowledgeable criminal defense attorney. The Winchester reckless driving attorneys at Simms Showers LLP have the knowledge and experience required to defend against various criminal charges, including reckless driving. If you need legal help with criminal defense, contact us today for a free initial consultation.
Resource:
nbc12.com/2020/01/05/virginia-deputy-crashes-responding-call-charged-with-reckless-driving/
https://www.simmsshowerslaw.com/what-are-several-common-penalties-for-reckless-driving-in-virginia/