Virginia Laws and Penalties for Underage Drinking and DUI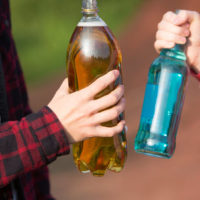 Today the topic for discussion will be an overview of Virginia laws and penalties concerning underage drinking and DUI. Specifically, these laws relate to people who are under the age of 21, which is below the threshold for legal consumption of alcoholic beverages.
In order to gain a full appreciation of this legal topic, the following sections will explore relevant considerations for underage drinking, providing alcohol to a minor, and underage DUI.
Underage Drinking in Virginia
It is illegal for a person under 21 years of age to drink alcohol. This applies to the purchase and possession of alcohol as well. If an underage person buys, possesses, or consumes alcohol, the maximum penalties can include $2,500 in fines, jail time of one year, and driver's license suspension for one year.
Providing Alcohol to Minors in Virginia
It is illegal for an adult to provide an underage minor with alcohol in Virginia. This prohibition applies when an adult gives or sells alcohol to an underage minor. This law applies equally to an adult who helps an underage minor circumvent the law and obtain alcohol illegally, even in an indirect way.
In any of the cases described previously in this section, the adult can face penalties of mandatory driver's license suspension for a maximum of one year as well as $2,500 in fines and even 12 months in jail.
Zero Tolerance Policy in Virginia
If an underage person consumes alcohol illegally and drives in Virginia, there are specific penalties that apply. Even though the statewide limit for blood-alcohol concentration is 0.08, the limit for people under 21 is a BAC of 0.02.
This means that underage DUI penalties kick in if an underage driver registers a BAC of 0.02 to 0.08. At that point, the underage driver faces administrative license suspension (ALS). A conviction for underage DUI can result in fines of $500, driver's license suspension for one year, or 50 hours of community service.
Standard Penalties for DUI in Virginia
It should be noted that regular DUI penalties apply if an underage driver registers a BAC above 0.08. At that level, the underage driver is charged in the same manner as any adult who commits a DUI. To learn more about the standard DUI laws and penalties in Virginia, interested parties are encouraged to review this breakdown of DUI defense on the Simms Showers website.
Let Us Help You Today
If you or a loved one are dealing with charges for underage drinking, DUI, or other criminal offenses, it can be decidedly valuable to retain the services of a battle-tested criminal defense lawyer. Contact Simms Showers LLP for help, servicing Leesburg, Winchester, Fairfax, and Manassas.