Virginia Law Professor Advises Everyone to Refuse to Talk to Cops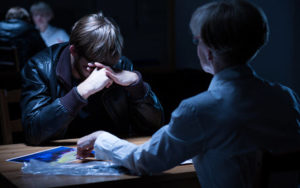 Atlanta Black Star recently reported on Regent Law school professor James Duane and his new book which talks about—among other things—the best practices for dealing with police officers. In 2008 Duane gave a lecture where he advised his students to not talk to police, even when they feel like they have nothing to hide. He believes that even for innocent people, the risks of divulging information that the police then use to falsely accuse you of a crime are too high to take.
Duane's book, "You Have the Right to Remain Innocent," looks at the problem of false confessions and the mistakes that individuals make when talking to police. Many people believe that if they did not do anything wrong then they have nothing to worry about when talking to police, but that is just not true, argues Duane. Simple mistakes in explaining whereabouts or other common small mistakes of memory or fact can be seized upon by investigators and used against innocent people. There are many cases of false confessions and police have been accused of using improper tactics to get defendants to confess. Once there has been a confession, even if it is false, it can be difficult for defense attorneys to get the confession thrown out of evidence.
Fifth Amendment
The fifth amendment protects people from self-incrimination. In his book, Duane also criticized a 2013 Supreme Court decision in Salinas v. Texas which allows prosecutors to use the fact that a defendant "pleaded the fifth" against them. This decision means that even remaining silent can be a problem. So what should you do if you are questioned by the police?
What to Do if You Are Questioned by Police
If you are stopped and questioned by police, there is one phrase that you should use: "I want to talk to my attorney". Requesting an attorney means that the police are not able to question you further until your attorney is there. Once you have a skilled criminal defense attorney with you, he or she can help you to decide how to answer questions.
If you are arrested by police you should also refuse to answer any questions and instead request to talk to your attorney. Without representation, there are many potential mistakes that even innocent people can make that will hurt their case in court. This assistance of a qualified criminal defense attorneys can allow you to cooperate with police without exposing yourself to any risk of unjust prosecution or detention.
Contact Us for Help
Whether you have accidentally made a false confession or have not even been charged with anything yet, you need a knowledgeable criminal defense attorney on your side anytime the police want to talk to you, even when you are innocent of any wrongdoing. Our experienced criminal defense attorneys at Simms Showers, LLP in Leesburg, Virginia represent clients in Loudoun County, Fairfax County and throughout Northern Virginia.
Resources:
atlantablackstar.com/2016/09/24/virginia-law-professor-dont-talk-to-the-cops-ever/
innocenceproject.org/causes/false-confessions-admissions/