Virginia Hate Crimes Criminal Defense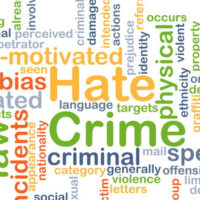 Hate crimes have seen a large spike over the last year during the presidential campaign, with an even larger spike after the election, according to the Independent. A hate crime is defined in Virginia § 52-8.5 as committing a crime against a person because of a protected trait. A hate crime is committed when a reason for committing the crime, regardless of any other motivating factors, was based on the victim's perceived;
Race;
Color;
Creed;
Religion;
Ancestry;
Gender;
Sexual orientation;
Physical or mental disability; or
National origin.
Note that the victim's personal characteristics for which they were attacked might not actually fall into any of these categories. The defendant may have attacked a person because they perceived that they were Muslim, and that could be construed as a hate crime even if that person was not Muslim. The violations that constitute a hate crime include the following:
Assault;
Aggravated assault;
Battery;
Misdemeanor theft;
Criminal trespass to residence;
Misdemeanor criminal damage to property;
Criminal trespass to vehicle;
Criminal trespass to real property;
Mob action;
Disorderly conduct;
Harassment by telephone; and
Harassment through electronic communications.
Specific Intent to Instill Fear in Victim Because of Protected Characteristics
Additionally, a hate crime is committed when a criminal act is "committed against a person or [his or her] property with the specific intent of instilling fear or intimidation in the individual against whom the act is perpetrated," because of a protected trait listed above.
Penalties for Hate Crime Conviction
Depending on the crime and the defendant's history, they may face anywhere from a Class 1 misdemeanor to a Class 6 felony for committing a hate crime in Virginia. A Class 6 felony is punishable by one to five years in prison and a maximum fine of $2,500.
Call a Loudoun County, Leesburg, Winchester, Fairfax, and Prince William Attorney Today
To be sentenced with a hate crime, the prosecution must have evidence that there was intent behind your alleged actions. Just because the victim was gay or was African-American does not mean that a violation against them would end in a harsher punishment for the defendant. There must be evidence that the defendant's actions were motivated out of hate for the person's race, color, religion, or other protected characteristic. If you have been charged with a hate crime, call the Loudoun County, Leesburg, Winchester, Fairfax, and Prince William attorneys of Simms Showers, LLP today at 703-997-7821.
Resource:
law.lis.virginia.gov/vacode/title52/chapter1/section52-8.5/
Disclaimer: This legal alert is provided for general information purposes only and is not a substitute for legal advice particular to your situation. No recipients of this memo should act or refrain from acting solely on the basis of this memorandum without seeking professional legal counsel. Simms Showers LLP expressly disclaims all liability relating to actions taken or not taken based solely on the content of this memorandum. Please contact Caleb Kershner or Ben Mann at cak@simmsshowerslaw.com, wbm@simmsshowerslaw.com, or (703) 771-4671 for greater details concerning how this information may affect you.