Underage Virginia Male Charged with Reckless Driving & Other Offenses in Ashburn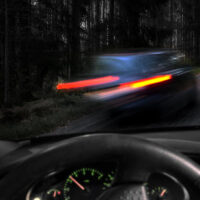 A 20-year-old male from Virginia faces criminal charges for reckless driving and several other offenses after a traffic stop in Ashburn, according to an article by the Loudoun Times-Mirror.
On Saturday, July 25th at approximately 2 a.m., a deputy from the Loudoun County Sheriff's Department observed a speeding vehicle near Gloucester Parkway and Ashburn Shopping Plaza. While conducting the subsequent traffic stop, the deputy detected alcohol intoxication and also found a handgun.
As a result of this incident, the Virginia underage male faces charges for reckless driving and carrying a concealed weapon, among others. Even though he was released from the Loudoun County Adult Detention Center, there will be further legal proceedings to determine innocence or guilt.
While the Virginia man awaits new developments in his legal case, it seems like a good time to review several Virginia statutes.
Reckless Driving
Code of Virginia Section 46.2-852 establishes the state laws against reckless driving. A person commits reckless driving if they endanger people or property while operating a motor vehicle. This general rule can apply to various types of dangerous driving conduct. Virginia law also features specific rules against reckless driving, such as excessive speeding or passing a stopped school bus.
When a person commits reckless driving in violation Section 46.2-852, they will likely face Class 1 misdemeanor charges. If convicted on these charges, the maximum sentence includes $2,500 in criminal fines and 12 months in jail.
In addition to fines and confinement, Code of Virginia Section 46.2-392 requires license suspension for reckless driving offenders. Depending on various circumstances, reckless drivers generally lose their license for 10 days to six months.
Carrying a Concealed Weapon
Code of Virginia Section 18.2-308 makes it unlawful to carry weapons in a concealed manner, such as firearms, knives, and other dangerous weapons. There are many exceptions to this law, including individuals with concealed carry permits, law enforcement officers, and various other officials.
When a person carries a concealed weapon in violation of Section 18.2-308, there is a multifaceted penalty structure. This penalty structure varies based on the number of previous offenses, if any:
First Offense — Class 1 misdemeanor charges, punishable as explained above;
Second Offense — Class 6 felony charges, punishable by one to 10 years in prison and up to $2,500 in criminal fines; or
Third or Subsequent Offense — Class 5 felony charges, punishable by two to 10 years in prison and up to $2,500 in criminal fines.
Do You Need Legal Help?
If you have legal questions about reckless driving or other criminal offenses in Virginia, it can be thoroughly beneficial to consult with a respected Winchester reckless driving attorney. The attorneys at Simms Showers LLP feature more than 140 years of combined legal experience with a specific focus on criminal defense. If you need legal help with criminal defense, contact us today for a free initial consultation.
Resource:
loudountimes.com/news/ashburn-man-charged-with-dui-reckless-driving-carrying-concealed-weapon/article_b53662e2-d026-11ea-af44-0bfe8d07a337.html
https://www.simmsshowerslaw.com/loudoun-county-police-search-ongoing-for-reckless-driver-in-stolen-rv/