Truck Accident in Virginia Leads to Reckless Driving Charges and Several Injuries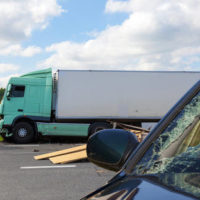 A truck driver faces reckless driving charges in Virginia after initiating a seven-vehicle crash in Pulaski County that left four people injured and traffic snarled for hours, according to an article by The Roanoke Times.
This truck accident happened on Interstate 81 on December 28th at approximately 3:15 p.m. At that time, the truck driver smashed into the side of a semi-truck in the opposite lane. The collision resulted in significant damage to both vehicles and carried one truck across the median into oncoming traffic.
After crossing the median, the truck's momentum carried over the guardrail before coming to a stop. In the process, the truck crashed into several vehicles, leading to a five-car pileup. It took authorities several hours to clear the wreckage and reopen Interstate 81 for regular traffic.
In terms of injuries, the truck driver was not hurt. First responders provided on-site treatment to one person for minor injuries. Two other people received medical treatment at a local hospital for minor injuries. And authorities airlifted a fourth person to Carilion Roanoke Memorial Hospital to treat severe injuries. Thankfully, all four injured people are expected to make a full recovery.
While the truck driver did not sustain an injury in the accident, she does face criminal charges in Virginia for reckless driving. To fully grasp the gravity of those charges, it makes sense to review relevant laws in Virginia.
Reckless Driving in Virginia Defined
As established in Code of Virginia §46.2-852, reckless driving is a criminal charge that applies to dangerous or careless driving conduct. If a person drives in a way that puts other people or property at risk, it often counts as reckless driving in Virginia.
In addition to the general prohibition on reckless driving, Virginia laws contain a number of specific provisions that prohibit certain types of conduct.
As detailed in Code of Virginia §46.2-854, it is unlawful in Virginia to pass another vehicle at the top of a slope or in the middle of a curve. If a driver passes another vehicle in such a manner, then reckless driving charges are often appropriate.
On a related note, Code of Virginia §46.2-855 establishes certain considerations for overloading motor vehicles. If there are so many passengers that the driver cannot see or drive safely, then it is likely reckless driving.
There is also a provision under Code of Virginia §46.2-858 that prohibits passing another vehicle while crossing railroad tracks. If a driver engages in such behavior, then they may face criminal charges for reckless driving.
Do You Need Legal Assistance?
In any circumstance in which reckless driving charges are a possibility it is highly advisable to seek legal help from a trusted criminal defense attorney. Contact Simms Showers LLP for help, servicing Leesburg, Winchester, Fairfax, and Manassas.
Resource:
roanoke.com/news/crime/tractor-trailer-driver-charged-after-multi-vehicle-crash-with-injuries/article_6d703090-c952-5c62-a706-e2862f31f20b.html