Top Three In-Flight Federal Crimes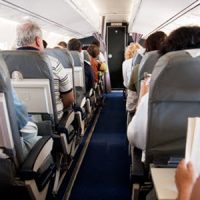 Many people believe that in-flight conduct is a bit like the Wild West, and the only applicable laws are a mixture of different agency rules. Back in the day, that was true. But an obscure rule change placed almost all in-flight crimes under the jurisdiction of the FBI, at least on domestic flights. Usually, an "in-flight" crime is anything that happens on board from when the door closes to when it opens again.
Alcohol, contributing to many crimes, now flows freely on most flights. This substance often transforms a mild disagreement into something much more intense. Therefore, the number of in-flight incidents is on the rise. Northern Virginia has some of the busiest airports in the country. So, a Manassas federal crimes lawyer often deals with in-flight crimes routinely. Below, we've listed some of the most common infractions and some defense to these infractions.
Assault
Saying "excuse me" when you bump another passenger while trying to get to the front of the deplaning line doesn't excuse the fact that that bump was probably an assault. In fact, it could be an admission of criminal responsibility. Federal law follows the common law definition that an assault is a harmful or offensive touch that was also intentional.
Such cases rarely make it to court. Usually, the alleged victim must file a complaint with the FBI, which (eventually) forwards the complaint to the U.S. Attorney's Office. The U.S. Attorney then decides whether or not to file charges. The alleged victim is simply a material witness.
These assault victims could file civil assault claims in the district or county where the flight departed. But that's the subject of another blog.
Alcohol-fueled scuffles that force the plane to make an emergency landing or create a huge onboard disruption are different. These defendants often face criminal charges, and officials might place them on the no-fly list. This list is a subject for a different blog as well.
Robbery
Similarly, returning the carry-on bag you swiped out of the overhead bin is not a defense to robbery. This offense is complete when the defendant takes property without the owner's permission to deprive the owner of that property's full use and enjoyment.
Roughly the same process applies. If the alleged victim files a complaint, if the FBI forwards that complaint to prosecutors, and if prosecutors decide to move forward, the defendant could face federal felony charges. But those are a lot of "ifs."
Interference with the Flight Crew
Airlines have a lot of clout on Capitol Hill, which is why 49 U.S. Code § 46504 infractions often make their way to federal court. These offenses are quite serious. A conviction could mean twenty years in federal prison.
The law is also very broad. It's not only illegal to intimidate or assault a flight crew member. It's also illegal to "interfere with the performance of the duties of the member or attendant or lessen the ability of the member or attendant to perform those duties, or attempts or conspires to do such an act." That laundry list could apply to almost anything, even a smart-alec remark or a minor argument.
A Manassas criminal defense lawyer frequently helps a possible defendant draft a heartfelt apology. Defendants who show sufficient remorse often don't get prosecuted for these infractions unless their behavior was off the rails.
Count on a Dedicated Loudoun County Lawyer
There's a big difference between an arrest and a conviction in criminal law. For a free consultation with an experienced criminal defense attorney in Manassas, contact Simms Showers, LLP, Attorneys at Law. Convenient payment plans are available.
Source:
archives.gov/research/investigations/fbi/classifications/164-aircraft-crime.html