Obscure Weapons Offenses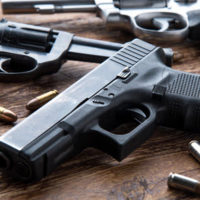 Whenever a deadly weapon is either used or brought along during the commission of a crime, the penalties are inevitably upscaled. However, many Virginians may not realize that the use or display of certain weapons in and of itself can bring a criminal charge that results in a heavy fine and lengthy jail or prison sentence.
Pointing a Gun or Similar Object in Public that Reasonably Induces Fear in Others 
As per Virginia statute 18.2-282, it is illegal to point, brandish, or hold a firearm in a public place in a manner that would reasonably induce fear in the mind of another of being either injured or shot. It need not matter if the firearm is capable of being fired or not. Additionally, this statute applies to any device that has a similar appearance to a firearm, such as an air or gas operated gun like an airsoft or BB gun. Violating this statute will result in a Class 1 misdemeanor, which carries a maximum punishment of one year in jail and a fine of $2,500. However, if the act occurred on the grounds of or within 1,000 feet of a public, private, or religious K-12 school, the offense is a Class 6 felony, which is punishable by one to five years in prison. Only for reasonable self-defense purposes does this statute not apply. 
Brandishing a Machete 
Gardeners and landscapers may use them routinely and legally for getting rid of pesky branches and brambles, but brandishing a machete is not always legal. According to Virginia statute 18.2-282.1, holding a machete or other device with an exposed blade that is 12 inches or longer, with intent to intimidate another, is a Class 1 misdemeanor. A person can be charged with this crime even if they did not intend to cause intimidation. In order for a person to be charged, there machete or blade needs only be held in a manner that "reasonably demonstrates" intent to intimidate, which can be quite subjective. Similar to brandishing a gun in an intimidating fashion, brandishing a machete with intent to intimidate is a Class 6 Felony if the act occurs on school grounds or within 1,000 feet of a private, religious, or public school property.
Sale of Toy Firearms
Selling or giving out toy firearms that shoot or discharge a blank or any projectile by means of combustion is illegal in the state of Virginia, as pursuant to Virginia statute 18.2-284. This statute does not apply to "cap guns," as they do not discharge any projectile. A violation of this statute constitutes a Class 4 misdemeanor, punishable by a maximum fine of $250. However, each toy gun sale or gift is its own offense and it can be easy to quickly rack up many Class 4 misdemeanor offenses as such.
Call a Leesburg Criminal Defense Attorney Today 
If you have been charged with one of the offenses described above, or any other weapons offenses in the state of Virginia, we at Simms Showers, LLP strongly encourage you to seek legal help at once. Contact one of our Leesburg criminal defense attorneys at your soonest convenience.
Disclaimer: This legal alert is provided for general information purposes only and is not a substitute for legal advice particular to your situation. No recipients of this memo should act or refrain from acting solely on the basis of this memorandum without seeking professional legal counsel. Simms Showers LLP expressly disclaims all liability relating to actions taken or not taken based solely on the content of this memorandum. Please contact Caleb Kershner or Ben Mann at cak@simmsshowerslaw.com, wbm@simmsshowerslaw.com, or (703) 771-4671 for greater details concerning how this information may affect you.