Driver Loses Control & Faces Reckless Driving Charges in Virginia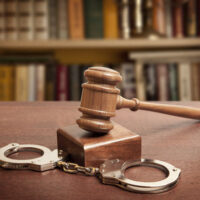 A driver faces criminal charges for reckless driving after allegedly causing a multi-vehicle accident in Chesterfield County, according to an article by the Richmond Times-Dispatch.
This car accident occurred on Thursday, September 10th at approximately 6 a.m. The driver in question was heading southbound on Interstate 95, just past the exit to Route 288. The driver apparently lost control, smashed into a wall, and bounced back into traffic. A truck swerved to avoid the driver, crashed through a wall, and collided with an oncoming passenger vehicle.
As a result of this incident, one person received medical treatment for non-life-threatening injuries. The authorities charged the driver in question with a type of reckless driving for operating a vehicle with improper control.
While the driver awaits further developments in their legal case, it seems appropriate to review the Virginia laws against, and punishment for, reckless driving.
What are the Virginia Laws Against Reckless Driving?
Code of Virginia Section 46.2-852 establishes the general definition of reckless driving. Under this section, a person commits reckless driving if they operate a vehicle in a way that endangers people or property.
In addition to this broad rule, there are many other versions of reckless driving under Virginia law, including, but not limited to:
Driving with improper control or faulty brakes (Code of Virginia Section 46.2-853);
Passing other vehicles on crests or curves (Code of Virginia Section 46.2-854);
Driving with obstructed view or impaired control (Code of Virginia Section 46.2-855); and
Passing two other vehicles at the same time (Code of Virginia Section 46.2-856).
What is the Virginia Punishment for Reckless Driving?
Code of Virginia Section 46.2-868 details the punishment for reckless driving offenses. Under this section, reckless driving is ordinarily a Class 1 misdemeanor. A conviction can result in a maximum punishment of confinement for 12 months in county jail and criminal fines up to $2,500.
In narrowly constructed situations, however, reckless driving can result in Class 6 felony charges. The felony version of this offense only applies if the offender:
Committed a reckless driving offense;
While their driver's license was suspended or revoked for a moving violation; and
Caused the death of another person.
A conviction for a Class 6 felony in Virginia can result in a maximum punishment of imprisonment for five years and criminal fines up to $2,500.
In addition to criminal charges, reckless driving offenders are also subject to mandatory license suspension under Code of Virginia Section 46.2-392. This section requires a suspension period of 10 days to six months for many reckless driving offenses.
Do You Need Legal Help?
If you have legal questions about reckless driving offenses, it can be greatly beneficial to contact a knowledgeable Winchester reckless driving attorney. The attorneys at Simms Showers LLP have defended clients against numerous criminal charges, including reckless driving. If you need legal help with criminal defense, contact us today for a free initial consultation.
Resource:
richmond.com/news/local/crime-and-courts/update-driver-charged-with-reckless-driving-after-i-95-crash-in-chesterfield/article_a955c34a-8ddd-5c95-886e-779e9b2ec978.html
https://www.simmsshowerslaw.com/virginia-reckless-driver-arrested-in-florida/