3 Legal Strategies to Decrease Your Liability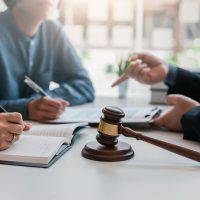 By Kyle Winey, Esq.
I. The Need for Liability Limitation
We live in a highly litigious culture. Businesses, nonprofits, and other organizations are increasingly exposed to legal liability. For example, businesses increasingly fear the vitriol of litigious patrons—and for good reason.
That's why all businesses, nonprofits, and churches should take significant measures to protect themselves from liability.
Some argue that the modern world runs on contractual obligations. So what better way to shield vulnerabilities than by using broad, enforceable contract protections?
Three types of contract provisions can serve that purpose:
Waiver and Release,
Indemnification,
Assumption of Risk.
These provisions vary dramatically in scope and enforceability. This article describes those distinctions and recommends strategies for strengthened protection.
II. Strategy #1: Waiver and Release
Waiver and Release is the first—and arguably weakest—contractual liability protection. This provision seeks to discharge liability for any injury that a party might suffer in the future. For example, a contract for whitewater rafting might ask the customer to sign a "waiver and release" for any injury that the customer may experience while rafting in the future. These are often called "prospective" waiver and releases because the provision implicates future injuries.
In general, Virginia law does not enforce prospective waiver and release provisions. Why? Because Virginia courts hold that prospective waiver and releases violate public policy. As the Virginia Supreme Court stated in Johnson's Administratrix v. Richmond and Danville D.R. Co., one party to a contract may not put the other parties "at the mercy of its own misconduct."1
In Hiett v. Lake Barcroft Community Association, the Virginia Supreme Court reaffirmed its Johnson decision. In Hiett, a man jumped into a shallow lake during a community association-sponsored triathlon, thereby becoming paralyzed.2 Before the event, the man signed a waiver and release, seeking to discharge the Association from any future injuries suffered during the event.3 However, the Court held that the waiver and release was unenforceable, thereby upholding Johnson as "universally" prohibiting any release from liability for future acts of negligence.4
Virginia's general stance on invalidating prospective waiver and release agreement arises from a public policy rooted at least as far back as the 19th century. Therefore, this public policy is unlikely to change any time soon.
However, Virginia has a few notable exceptions to its general waiver and release policy, including: (1) Equine Activities, and (2) Property Damage. These exceptions are addressed below.
First, Virginia Code § 3.2-6202 allows waivers of liability for certain equine activities, including those issued by equine sponsors and professionals.5 But even in those cases, Virginia courts often limit the sponsor's liability under the strict condition that a participant is injured by the "intrinsic dangers" of equine activities.6 In cases of negligence or knowing misconduct, the equine activity sponsor is still liable.7 Consequently, "waiver" for equine activities is virtually the same as "assumption of risk"—a concept discussed in more detail later in this article. Nevertheless, certain prospective waiver and releases for equine activities may have some degree of enforceability.
Second, Virginia courts generally enforce waiver and releases for property damage (versus injury to persons). For example, in Chesapeake & O.R. Co. v. Clifton Forge-Waynesboro Tel. Co, a telephone company executed a waiver and release to waive liability for any telephone wire damage that resulted from a railroad company's negligence.8 In that case, the Virginia Supreme Court held that waivers for property damage are generally enforceable between private parties."9 For this reason, private entities should consider requiring customers and patrons to waive claims for property damage, even in scenarios where property damage is largely unforeseeable.
To be clear, prospective waiver and releases differ from waiver and releases that address previous injuries. Waiver and releases that pertain to previous injuries are generally enforceable. For example, a settlement agreement waiving and releasing injuries arising from a prior slip and fall incident, in exchange for a certain amount of money, is generally enforceable.
III. Strategy #2: Indemnification
Indemnification is a second—and much stronger—way to mitigate liability. Indemnification occurs when parties use a contract to shift liability from one party to another. Thus, a party identified as having responsibilities under the contract (the indemnitor) pays the benefiting party identified in the contract (the indemnitee), even if the indemnitee would not otherwise be due payment by the indemnitor.
Two types of indemnification prevail: Third-Party and First-Party. The following subsections address the distinction in detail.
A. Third-Party Indemnity
Third-party indemnity occurs when one party pays back another party for its liability to a third party outside the contract. For example, a business might hire a web designer to create the business's website. If the web designer misappropriates a third party's intellectual property while designing the website, a court might hold the business liable—even though the business did not directly misappropriate the intellectual property. However, an agreement between the business and the web designer containing indemnity language may require the web designer to cover all costs that the business may incur from using misappropriated intellectual property. Therefore, third-party indemnity allows parties to shift the risk of liability in advance, without preventing the injured third party's full recovery.
Third-party indemnity agreements usually are enforceable in Virginia. For example, in Estes Express Lines, Inc. v. Chopper Express, Inc, a leasing company leased several trucks to a trucking company under an agreement containing indemnity language. Subsequently, an employee of the trucking company sustained injuries while operating a leased truck. In response, the trucking company demanded that the leasing company pay for the injuries of the employee (i.e. a third party), instead of the trucking company paying the employee. The Virginia Supreme Court enforced the parties' indemnity agreement, thereby requiring payment by the leasing company. In doing so, the Court reasoned that indemnity provisions are "substantively different" from waiver and release agreements, because, unlike waiver and releases, the injured third party may recover damages.10
B. First-Party Indemnity
First-party indemnity agreements involve only the parties to a contract. This type of indemnity often applies when one party to a contract breaches the contract. For example, a seller of a business may represent to a buyer that the contract for sale is "enforceable according to its terms." However, if the seller later argues that the contract is no longer enforceable, for whatever reason, even if ultimately true, the buyer may have a claim against the seller for breaching the warranty.
As a practical matter, given the strength of indemnity provisions, parties must be mindful of the other party involved. For example, a church may require indemnity protection for an outside party holding a wedding in the church sanctuary, but may omit indemnity protection for a volunteer.
To increase the probability that indemnity provisions are enforceable, there are a few strategies that we employ:
Draft indemnity protections for general conduct, including for "negligent acts"
Draft indemnity protections for specific conduct, such as misappropriation of intellectual property.
IV. Strategy #3: Assumption of Risk
Assumption of Risk is the third—and also strong—way to mitigate liability. In assumption of risk, an individual agrees to "assume" the specific, inherent risks in any given activity. That assumption of risk then bars the individual from recovery for any injury resulting from those specific risks. For example, a trampoline park might require patrons to sign a contract stating the following: "The patron is aware that this activity involves risks of bodily injury, including head injuries, neck fractures, and broken bones." Under this provision, the patron expressly assumes the risk of all listed injuries. With this agreement, the patron essentially "takes upon himself" the risks of trampoline-jumping and agrees not to hold the park liable for those injuries. This provision differs from a prospective waiver and release, since the assumption of risk language expressly identifies the risk, whereas the waiver and release language does not.
In general, assumption of risk clauses are enforceable in Virginia—provided that the person signing assumed known, intrinsic risks.11 However, assumption of risk does not protect businesses or religious entities from liability for their own negligence.12 For example, in Amusement Slides Corp. v. Lehmann, a man was injured after going airborne on an amusement park slide.13 In that case, the slide's surface friction varied depending on humidity, so employees were tasked with squirting water onto the slide's lanes to slow individuals traveling at dangerous speeds.14 When a tired employee mistimed applying the water, a man sped down the slide and was injured.15 The Court held that the man had assumed the risk relating to normal operations of the slide, but the man had not assumed the risk of employee negligence.16 Because the man properly followed all instructions, and the employee negligence injured him despite such compliance, the Amusement Slides was thus liable for the injury.17
To increase the probability that assumption of risk provisions are enforceable, there are a few strategies:
Identify only inherent risks, not negligent acts.
Sufficiently identify the risks, but not with so much specificity that the assumption of risk is overly narrow.
Finally, there are practical implications of assumption of risk language—and it relates to optics. For example, parents sending their children to a church youth retreat might be frightened when they see the dozens of risks listed in an assumption of risk provision. Our clients are right to be concerned about the optics of these scenarios, but must also recognize the legal ramifications that occur in the absence of sufficiently identifying the risks. A knowledgeable attorney can help balance assumption-of-risk optics with adequate liability shields. Simms Showers employs attorneys with years of experience drafting strong, fair, and reasonable contractual protections.18
V. Conclusion
Businesses, nonprofits, and churches in Virginia would be wise to incorporate all three contractual liability protections discussed in this article.
Although Waiver and Release is largely unenforceable in Virginia, entities may freely require patrons to sign waiver and release forms. At worst, a Virginia court will simply invalidate the waiver, leaving a church or business in no worse position. Furthermore, entities can require individuals to waive their right to sue for property damage, and this fact alone implies that churches and businesses may consider including such language in their contracts.
Second, businesses and religious entities should consider adding Indemnification provisions—for both third-party and first-party claims. Both types of indemnity are generally enforceable.
Finally, businesses and other entities should consider including Assumption of Risk provisions—which generally shield against liability for intrinsic risks. Although assumption of risk does not inherently preclude liability for negligence, a skillful attorney can craft provisions that account for the limitation.
To limit their own liability, business entities and religious institutions should consider mitigating risk as much as practical. These liability limitations may fend off spiteful plaintiffs and their lawyers, who might take advantage of vulnerable institutions and bankrupt them at the slightest opportunity.
These provisions could save businesses, nonprofits, and organizations from millions of dollars in liability.
Simms Showers attorneys bring decades of experience leveraging the necessary liability limitations to protect vulnerable entities. Any church, nonprofit, or business wishing to avail itself of these protections can contact the Simms Showers office at (703) 771-4671.