Virginia Law Enforcement Arrests D.C. Woman For Third DUI Offense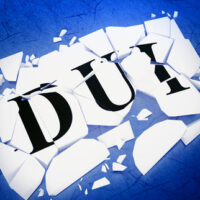 The Loudoun County Sheriff's Office arrested a Washington, D.C. woman for an alleged third offense of driving under the influence (DUI), according to an article by the Loudoun Times-Mirror.
This incident occurred in Sterling, Virginia at approximately 8 a.m. on Sunday, April 5th. The 57-year-old D.C. woman ran a red light at the intersection of Palisade and Cascades parkways.
Sheriff's deputies observed this violation and executed a traffic stop. In the process, the deputies noticed that the D.C. woman appeared to be intoxicated. As a result, the deputies arrested the D.C. woman and charged her with a third offense DUI.
At this point, the D.C. woman remains in the Loudoun County Adult Detention Center without bond. While she awaits the start of formal legal proceedings, it seems appropriate to review several common penalties for repeat DUI offenders:
Prison time and fines;
Driver's license revocation; and
Trauma Fund Center payment.
Prison Time & Fines
Code of Virginia Section 18.2-270 establishes the criminal penalty structure for DUI offenses. Under this section, first- or second-time offenders typically face misdemeanor charges with mandatory minimum levels of punishment.
But if a person drives drunk a third time, DUI becomes a Class 6 felony in Virginia. If convicted, a DUI offender can face a maximum of five years in prison and pay up to $2,500 in criminal fines.
Section 18.2-270 also provides mandatory minimum levels of punishment for third-time DUI offenders. In these situations, an offender must spend at least 90 days to six months in prison and pay at least $1,000 in criminal fines.
License Revocation
Code of Virginia Section 18.2-271 creates a requirement of driver's license suspension or revocation for all DUI offenses. For first- or second-time offenders, there is a mandatory suspension period of one to three years. During this type of suspension period, it is sometimes possible to obtain a restricted driving permit. However, that is not possible in every situation.
For a third or subsequent DUI, however, an offender faces permanent revocation of driving privileges. Drivers with revoked licenses are typically ineligible for restricted driving permits during the revocation period.
Furthermore, the time period for revocation is indefinite. While offenders can apply for reinstatement, they are not guaranteed to regain driving privileges. Stated otherwise, a person with a revoked license may never be able to drive a car again.
Trauma Fund Center Payment
Code of Virginia Section 18.2-270.01 requires repeat DUI offenders to submit payment to the Trauma Center Fund. This fund exists to mitigate the costs of providing emergency response and medical services for DUI incidents. Repeat DUI offenders must submit a $50 payment to this fund.
Let Us Help You Today
If you need legal help with criminal charges for DUI in Virginia, it can be exceedingly constructive to contact a trusted criminal defense attorney. The Virginia DUI defense attorneys at Simms Showers LLP feature proven skill and experience in most aspects of criminal defense, including first-time and repeat DUI offenses. If you need legal help with criminal defense, contact us today for a free initial consultation.
Resource:
loudountimes.com/news/d-c-woman-receives-third-dwi-after-sterling-traffic-stop/article_e7ef62b6-781e-11ea-be8f-d3104aa7a75f.html
https://www.simmsshowerslaw.com/what-are-the-consequences-of-refusing-a-dui-test-in-virginia/