Virginia Firearm Straw Purchasing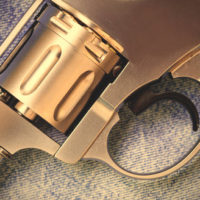 Every state has its own individual set of laws regulating firearms. As a result, it may be easier to purchase a firearm in one state versus another. This fact was recently highlighted when, according to the Washington Post, 24 men, 22 being Virginia residents, were charged with a 627-count indictment for trafficking guns from Virginia to Brooklyn, New York, to be sold illegally on the street. One of the suspects bragged to police that the Virginia gun laws are currently so weak that he could virtually just give away the guns (because of the markup he was charging). New York City Police Commissioner James P. O'Neill said that, "The illegal firearms sold during this investigation amount to a sizable arsenal. When twenty-four individuals can readily engage in interstate trafficking of 217 handguns, rifles and assault-type weapons, this nation has a serious gun-control problem."
Easy to Purchase Firearms in Virginia, Drive Them Across State Lines
There is big money to be made by purchasing firearms in Virginia, where there is no limit on the number of weapons a person can purchase in a day, and driving them across state lines where gun laws are more strict. According to one of the defendants that was allegedly involved in the interstate gun bust, "There's no limit to how many guns I can go buy from the store. I can go get 20 guns from the store tomorrow. . . They might start looking at me, but in Virginia, our laws are so little, I can give guns away." According to Brooklyn District Attorney Eric Gonzalez, "When you hear a trafficker boasting about the weak gun laws in Virginia, it is crystal clear that this needs to be addressed." While law enforcement is continuing to crack down on violations such as this in New York, the laws in Virginia remain, so it is easy to purchase large quantities of guns at a time. In 2012, a longstanding Virginia gun purchasing law was repealed. The law limited a Virginia resident to purchase just one gun per month, which drastically cut down on gun trafficking. However, even if current Virginia law  makes purchasing guns simple, trafficking firearms is still a seriously penalized offense in Virginia via the straw purchasing offense.
What is Straw Purchasing?
When someone cannot legally purchase a firearm due to their inability to pass a federal background check, or they do not want to be associated with the firearm purchase, they may have another individual purchase the firearm for them. This is called a straw purchase, and is a federal offense that is punishable by up to 10 years in prison, as per 18 U.S. Code § 924. The person who buys the gun and the person who receives the gun can both be punished under this statute.
Call a Loudoun County, Leesburg, Winchester, Fairfax, and Prince William Attorney Today
If you have been charged with any Virginia firearm law violation, we strongly urge you to call the experienced Leesburg, Virginia firearms defense attorneys at Simms Showers, LLP today at 703-997-782. We will help you throughout each step of your case.
Resource:
washingtonpost.com/opinions/virginia-earns-bragging-rights–as-the-best-state-for-illegal-gun-trafficking/2017/03/10/eeb210da-0508-11e7-b1e9-a05d3c21f7cf_story.html?utm_term=.1776c01d013c
Disclaimer: This legal alert is provided for general information purposes only and is not a substitute for legal advice particular to your situation. No recipients of this memo should act or refrain from acting solely on the basis of this memorandum without seeking professional legal counsel. Simms Showers LLP expressly disclaims all liability relating to actions taken or not taken based solely on the content of this memorandum. Please contact Caleb Kershner or Ben Mann at cak@simmsshowerslaw.com, wbm@simmsshowerslaw.com, or (703) 771-4671 for greater details concerning how this information may affect you.