Virginia Cigarette Trafficking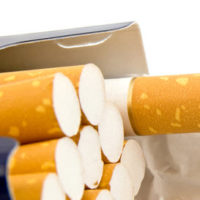 Cigarettes are legal in all 50 states. However, the illegal transport of cigarettes out of state could land you in jail or prison for a very long time. Recently, a two-year undercover investigation of more than 150 crime ring suspects led to 43 indictments and 740 charges, according to The Washington Post. Law enforcement agents had their eyes on individuals whom they suspected to be smuggling cigarettes from Richmond, Virginia to New York City. In Virginia, a carton of cigarettes costs $50, but in New York City, a carton costs up to $120 due to taxes and fees. Virginia state law enforcement officer told Virginia's state Crime Commission that, "Illegally trafficked cigarettes now have a higher profit margin than cocaine, heroin, marijuana or guns." The so called crime organization that is allegedly responsible for the illegal smuggling, along with other crimes such as money laundering, writing bad checks, shootings, and other violent crimes, reportedly sold more than $30 million worth of cigarettes through the black market. According to Fairfax officer Thomas Harrington, "It's got to be one of the largest organized crime groups we've had. It is an extremely complex case."
You May be Fined Up to $2,500 Per Cigarette Pack as Part of Your Punishment
As per Virginia statute § 58.1-1017 (sale, purchase, possession of cigarettes for purpose of evading tax), the penalties are as follows:
Class 2 misdemeanor: For possessing (or purchasing or receiving) less than 3,000 packs of cigarettes with the intention to sell or transport. Additionally, the defendant can face a fee of up to $500 per cigarette pack.
Class 6 felony: For possessing (or purchasing or receiving) more than 3,000 packs of cigarettes with the intention to sell or transport. The defendant faces a fee of up to $2,500 per cigarette pack.
Each pack of cigarettes is considered a separate offense, meaning that a defendant may be facing many charges of illegal trafficking and hundreds of thousands or millions of dollars in fines. 
Cigarette Trafficking is a Growing Concern for the Virginia State Crime Commission
According to Virginia's State Crime Commission, up to 20,000 cartons of cigarettes are illegally trafficked each week, resulting in $55 million in sales and $10 million in profit. Also according to the Virginia State Crime Commission, certain gangs use the profits from illegal cigarette trafficking to fund other illegal endeavors, such as human trafficking prostitution rings. As such, prosecutors, jury members, and judges are heavily inclined to reach a guilty verdict and throw the defendant behind bars for as long as possible. However, an experienced attorney, who has a history of successfully representing clients who have been charged with trafficking, will be able to mount a defense worthy of defeating the state's best prosecutors.
Do Not Hesitate to Contact a Leesburg Criminal Defense Attorney Today
Cigarette trafficking charges are incredibly serious and deserve the full attention of an experienced Leesburg, Fairfax, Winchester, or Manassas law office. Call the lawyers of Simms Showers, LLP today at 703-771-4671 for help with your case.
Resources:
vscc.virginia.gov/Final%20Cigaratte%20Trafficking-2.pdf
washingtonpost.com/local/public-safety/forty-three-people-indicted-on-charges-of-organized-crime-scheme/2017/05/05/7362f00e-3198-11e7-8674-437ddb6e813e_story.html?utm_term=.70edf7633cd8
Disclaimer: This legal alert is provided for general information purposes only and is not a substitute for legal advice particular to your situation. No recipients of this memo should act or refrain from acting solely on the basis of this memorandum without seeking professional legal counsel. Simms Showers LLP expressly disclaims all liability relating to actions taken or not taken based solely on the content of this memorandum. Please contact Caleb Kershner or Ben Mann at cak@simmsshowerslaw.com, wbm@simmsshowerslaw.com, or (703) 771-4671 for greater details concerning how this information may affect you.