The Heart of the Estate Plan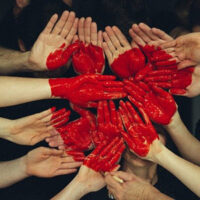 By J. Vance Stallings, Esq. Of Counsel SimmsShowers Law
It is often the case that estate planning attorneys and clients think of estate planning as a very practical exercise designed to pass along assets to the next generation, reduce taxes, avoid the probate process, and protect assets for creditors and litigants.  And, of course, each of these objectives is important and worthy of our consideration.  We at Simms Showers pride ourselves on providing those services at the very highest levels of expertise and efficiency.  After all, we know that there is always a plan for your estate. Whether it is your own or someone else's, there is always a plan.  But, in the back of your mind, as you think of your legacy, I bet you often hear a still, small voice whispering to you that it can and should be so much more.  In addition to the legal, tax, and financial elements of your plan, you know that your legacy, the very essence of what you want to pass on to those people and causes which you love, adds up to more than efficiently passing on your things.
Accepting that proposition, we can now turn to creating a plan that is an expression of your love, your passions, your hopes, your dreams, and your values: the very song of your heart.  By broadening your focus and daring to go beyond the norms, we can in fact craft a plan both worthy of your aspirations and empowering to the beneficiaries of your love and lasting legacy.
There are a number of ways in which we can work together to pass on your legacy through instruments such as archival projects, incentivized trusts, charitable contributions, family foundations, donor advised funds, and more.  How does that look?
Your Story

You have a story to tell and it is a big part of the legacy that you leave to your loved ones.  It is not just about you, but rather, it is a story of those who have gone before you and will follow thereafter.  In your estate planning documents, you can specifically reference important family artifacts that you will leave behind.  You know the importance of these items and may be the only one left who does.  Share that knowledge along with the artifacts using video or audio recordings, compilations of your recollections in books or letters, photo albums, and other heirlooms.  Let them know why these are not just things to be tossed out with the old magazines and newspapers.  Put them in the context of the story of your family and show them why they are a valuable part of your legacy.
Your Values
In addition to using estate planning to share the family story and history, you can also incorporate core interests and beliefs into your estate plan.  You may wish to pass along values like responsibility, dedication, or perseverance.  There are a variety of specific estate planning strategies that can incentivize certain life paths for your beneficiaries, empowering you to pass along values and wisdom alongside wealth.  The types of vehicles available for the expression of these values are many.  Here are a few of them:
An educational trust establishes funds for children, grandchildren, or even great-grandchildren to pursue higher learning.
An incentive trust can ensure disbursements only under certain conditions, such as a beneficiary keeping a full-time job or performing a certain type of work you want to encourage.
If you are philanthropically minded, there are many charitable planning options, such as charitable trusts, donor advised funds, or private foundations.
Your Hopes
In addition to passing along your values through your estate plan, you also have the freedom to decide how you would like your life to be celebrated.  This is often overlooked as our focus is on distributions, taxes, and assets protection, however; your vision for your funeral services, celebration of life, or other form of celebration can be included in your estate plan and is often a great gift to your spouse and children as that is one less thing they have to worry about when taking care of your end of life affairs.  It is also a wonderful time to reinforce the values that you wish to pass down to those you love.
As we've discussed, estate planning can be so much more than distributions, taxes, assets and liabilities.  When properly considered and made a part of a well drafted estate plan, your legacy can make a real difference in the lives of those you love.  That is the heart of the estate plan.  The Estate Planning Attorneys of Simms Showers we pride ourselves in providing the very best legal services while remembering that each of our clients is so much more than just a financial transaction.  If these values align with yours, we look forward to the opportunity to build a relationship with you and your family.
Disclaimer: This memorandum is provided for general information purposes only and is not a substitute for legal advice particular to your situation. No recipients of this memo should act or refrain from acting solely on the basis of this memorandum without seeking professional legal counsel. Simms Showers LLP expressly disclaims all liability relating to actions taken or not taken based solely on the content of this memorandum. Please contact Vance Stallings Esq. at jvstallings@simmsshowerslaw.com, Gigi Lawless Esq. at gblawless@simmsshowerslaw.com, or  H. Robert Showers, Esq. at hrs@simmsshowerslaw.com for legal and estate planning advice that will meet your specific needs.