Rapper Allegedly Shot 10-Year-Old Boy in Franklin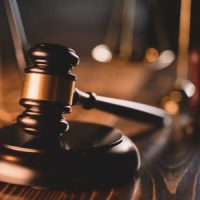 Police are looking for a suspect in the shooting death of a small boy. Authorities say the suspect is armed and dangerous.
The 23-year-old woman is wanted for first degree murder and related firearms charges in connection to a shooting in the 300 block of Artis Street. According to investigators, the woman and three other individuals had an armed conflict with two adults, and in the gun battle, the woman shot two people. "The first arriving units found two gunshot victims, at different residences, suffering from life-threatening injuries," a Franklin Police spokesperson said. "The 37-year-old adult male was flown to Sentara Norfolk General Hospital where he has been treated and released. The 10-year-old male child succumbed to his injuries at the hospital."
"This is a very sad day for the City of Franklin. Any loss of life is unwarranted but for a 10-year-old to be the victim of violent crime is unacceptable and we as a community must come together and end this senselessness," Franklin Police Chief Steve Patterson said. "The Franklin Police Department offers its condolences to the family of the young man killed today and hopes the community will come together to support both families during this time."
Police Investigations
Law enforcement investigators typically use lineups and/or informants to locate violent criminal suspects.
Most jurors believe witness lineup identifications are the most compelling evidence in a criminal case. But most lineups are tainted.
For starters, lineup instructions often lead to poor results. If the administering officer tells a witness to pick a suspect, the witness feels pressured to pick someone. If the officer says that suspect might or might not be present, that instruction removes that pressure.
Generally, a photo or live lineup is single blind. The administering officer knows the suspect's identity, although the witness doesn't know. Therefore, the administering officer often gives the witness subtle clues, or not so subtle clues, about who to select. For example, an officer might show a witness a single photo or tell a live lineup witness to look again and be sure.
The cross racial effect may come into play as well. If a witness of one ethnicity sees ten people of another ethnicity who are all roughly the same age, height, and weight, all those people look alike to the witness.
Investigators sometimes pressure witnesses to select suspects out of lineups, and they also often coerce paid informants to provide the "right" information. This time, the pressure comes in the form of a large cash payment or promised leniency in another matter. Most people will say practically anything for love or money.
So, if an investigation over-relies on lineup identification or paid informant testimony, a Leesburg criminal defense lawyer can successfully challenge that evidence's reliability.
Arrest Warrants
A few final words about arrest warrants. The criminal statute of limitations doesn't apply to arrests warrants. Therefore, they have no expiration date. Once a judge issues an arrest warrant, it's valid until officers serve it.
Frequently, a Leesburg criminal defense lawyer deals with stale arrest warrants. A judge might issue an arrest warrant, and several years might elapse until an officer serves that warrant. This delay is especially common in traffic warrant cases.
Most police departments have high turnover rates. So, after a year or maybe two, the arresting officer is probably no longer with the department. These cases don't ordinarily hold up in court, because if there's no witness, there's normally no case.
Although the charges won't hold up in court, the warrant is valid. So, we usually recommend that people named in stale outstanding warrants voluntarily surrender and start the court process. With the assistance of an attorney, the defendant might never leave the holding area of jail. Alternatively, the defendant might not need to go to jail at all.
Count on a Diligent Loudoun County Lawyer
There's a big difference between an arrest and a conviction in criminal law. For a free consultation with an experienced criminal defense attorney in Leesburg, contact Simms Showers, LLP, Attorneys at Law. We routinely handle matters throughout Virginia.
Source:
wtvr.com/news/local-news/lamarj-holden-obit-august-10-2023