PRESS RELEASE – "DON'T TIP BLACK PEOPLE" AT ANITAS ASHBURN IS A FAKE RECEIPT
FEBRUARY 24, 2017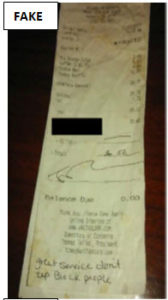 Our firm represents a customer who visited the Anita's Mexican Restaurant in Ashburn on January 7, 2017.  Our client and his girlfriend were served by Kelly Carter, an employee at Anita's, and paid for their meal and left at 11:09am EST.  Although Ms. Carter provided what our client believed to be objectively poor service during the meal, he made no remarks to her, but instead tipped her $0.01 and wrote "terrible service" on the bottom of the merchant receipt that he left on the table.  Unfortunately someone re-printed our client's receipt after he left, forged his signature, left a $0.00 tip, and wrote on the bottom "Great Service Don't Tip Black People."  This fake receipt was immediately posted online and reported by numerous media outlets.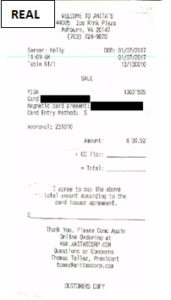 Our client did not sign the fake receipt.  Our client's real receipt shows it was printed at 11:09am.  The fake receipt shows it was printed at 11:12am.  Our client was no longer in the restaurant by 11:12am and could not have signed and did not sign that receipt. The receipt our client signed said "MERCHANT COPY" at the bottom of the receipt, just like his copy of the receipt says "CUSTOMER COPY."  The fake receipt does not say either "CUSTOMER COPY" or "MERCHANT COPY" on the bottom.  Our client did not write that he received "great service" because he believed he received poor service; his opinion had nothing to do with Ms. Carter's race.  Our client did not nor would he ever write anything about refusing to tip African Americans because of their race.  Our client has no ill feelings towards African Americans.  Our client did not leave a $0.00 tip.  Our client tipped $0.01 out of his own conviction against tipping well for poor service.
We have contacted Anita's through their legal counsel and demanded that they set the story straight and find out who is responsible.  To our knowledge, they have not provided a substantive answer or conducted an investigation.  Our client calls upon Anita's to take a formal position on this matter after a thorough investigation.  The owner of Anita's, Thomas Tellez, is recorded in numerous public statements as saying that this event did happen.  Our client is unaware of what Mr. Tellez knew at the time he said that statement, but our client has now made Mr. Tellez aware of his side of the story and demands a response.
Please direct all responses to our office solely and directly by email, at djh@simmsshowerslaw.com.
Resources:
loudountimes.com/news/article/leesburg_attorney_challenging_waitresss_claim_of_racist_message
wtop.com/loudoun-county/2017/02/lawyer-racist-note-loudoun-co-restaurant-bill-fake/
loudountribune.com/anitas-racist-receipt-fake/
fox5dc.com/news/237917067-story
wjla.com/news/local/waitress-undeterred-by-racist-note-left-on-bill-at-ashburn-restaurant
rawstory.com/2017/01/customers-rally-around-beloved-waitress-stiffed-by-white-couple-who-dont-tip-black-people/
heatst.com/culture-wars/racist-note-left-for-black-waitress-fingered-as-hoax-after-she-gets-3600-in-donations/
freebeacon.com/culture/virginia-waitress-accused-racist-hoax-lawyer-steps/
us.blastingnews.com/news/2017/02/black-waitress-who-received-racist-note-found-to-be-a-fraud-001502671.html
bizpacreview.com/2017/02/26/waitress-dont-tip-black-people-note-receipt-shows-signs-possible-hoax-452814
breitbart.com/big-government/2017/02/26/lawyer-racist-note-given-black-waitress-fake/
dailycaller.com/2017/02/25/lawyer-racist-note-given-to-black-waitress-in-virginia-is-a-fake/
inquisitr.com/4052615/racist-dont-tip-black-people-note-is-a-hoax-lawyer-says/
Save
Save
Save