Police Charge 44 People in Virginia for Drug and Gun Crimes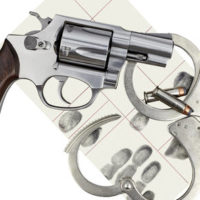 Several law enforcement organizations combined forces over the course eight months to bust an illegal drug operation, according to an article by The Virginian-Pilot. This combined police effort led to criminal charges against 44 people, including drug and weapon offenses.
Overall, law enforcement agents were able to seize illegal drugs and weapons as well as cash. From a drug standpoint, officers seized 24 doses of ecstasy, 11 ounces of heroin, nine grams of methamphetamine, three pounds of marijuana and three pounds of cocaine. From a weapon and cash standpoint, officers seized 12 firearms and $85,000 in cash.
Several state and federal law enforcement agencies participated in this operation, including the Norfolk Police Department, Chesapeake Police Department, Drug Enforcement Agency (DEA), Homeland Security Investigations and the Bureau of Alcohol, Tobacco, Firearms, and Explosives.
The investigation started in August 2017, when a 48-year-old Virginia man entered the DEA radar. At that time, a DEA informant implicated the Virginia man in heroin trafficking. According to the informant, the Virginia man purchased heroin in bulk in New York, then he transported the bulk shipment back to Virginia. Then the man would divide up the shipment amongst local drug dealers.
After learning of this illegal activity, authorities zeroed in on the Virginia man. Police tracked his phone and followed the man as he took a bus from New York to Virginia. Once the man exited the bus in Virginia Beach, he entered an SUV. That is when law enforcement sprang into action, arresting the Virginia man before he could escape.
The Virginia man alone accounted for a large police seizure. Between his person and car, the man had 112 grams of heroin, a handgun and $2,795 in cash. As a result of his actions, the Virginia man faces federal charges for drug trafficking and illegal possession of a firearm.
At this point, law enforcement continues to search for two suspects, a 50-year-old man and 35-year-old man. Both of the at-large suspects are from Norfolk. Police have outstanding warrants for illegal drug charges for both men, though they remain at large for the time being.
Additionally, law enforcement continues to pursue leads in connection with this operation. Law enforcement officials maintain that additional charges and arrests may flow from information already gathered. However, authorities will not release further information until formal charges and arrests are complete. Otherwise, the suspected criminals may be able to avoid legal repercussions for their illegal activities.
Contact Us Today for Help
If you are facing criminal charges for illegal drug or weapon offenses in Virginia, it is best to consult a proficient criminal defense attorney. The attorneys at Simms Showers LLP, servicing Leesburg, Winchester, Fairfax, and Manassas, are eager to assist you throughout each step of your case.
Resource:
pilotonline.com/news/local/crime/article_a5a11f5e-9c69-5487-8cb7-1442f6cf80b7.html