Man without License Arrested for Reckless Driving in Virginia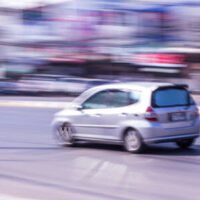 An 18-year-old driver from Norfolk, Virginia faces charges for reckless driving and other offenses, after leading police on a high-speed chase on Interstate 64, according to an article by CBS affiliate WTKR.
According to official reports, police attempted to execute a traffic stop for reckless driving on Interstate 64, somewhere around  mile marker 243. Apparently, the Norfolk man was driving 88 miles-per-hour in a 65-mile-per-hour zone. Instead of pulling over and obeying police commands, the Norfolk man sped off.
A high-speed chase ensued on Interstate 64 in Newport News and beyond. According to police statements, the Norfolk man was passing vehicles on the shoulder and registering speeds upwards of 120 miles per hour.
After the Norfolk man sped through Hampton, police officers deployed a device to deflate the vehicle's tires, near the interchange of Interstates 64 and 664. Although the vehicle's tires deflated, the Norfolk man was able to exit the interstate at Rip Rap Road. He lost control of the vehicle near N. King Street.
At that point, the Norfolk man and three passengers exited the vehicle and attempted to flee the scene on foot. Police apprehended the Norfolk man and two underage minors shortly thereafter. They were unable to apprehend the third passenger.
As a result of this incident, the authorities have charged the Norfolk man with reckless driving and several other offenses. This seems like an appropriate time to review Virginia laws against and punishment for reckless driving.
Reckless Driving Laws in Virginia
The laws against reckless driving appear in Code of Virginia Section 46.2-852. Under this section, a person commits reckless driving if they operate a motor vehicle:
In a reckless manner;
At a speed that endangers people or property; or
In a manner that endangers people or property.
In addition to this general rule, Virginia law also classifies many other types of behavior as reckless driving, such as passing a stopped school bus.
Reckless Driving Penalties in Virginia
The punishment for reckless driving appears in Code of Virginia Section 46.2-868. Under this section, reckless driving is usually charged as a Class A misdemeanor in Virginia. Any person convicted of this type of misdemeanor is typically subject to criminal fines up to $2,500 and a jail sentence of up to 12 months.
In certain circumstances, reckless driving can become a felony crime. The felony version of this offense applies if a person commits reckless driving while driving without a license and causes a fatality.
In that instance, reckless driving is a Class 6 felony. Any person convicted of this type of felony is typically subject to criminal fines up to $2,500 and a prison sentence of one to five years.
On top of the criminal penalties described above, reckless driving offenses are also subject to mandatory suspension of driving privileges. As detailed in Code of Virginia Section 46.2-392, the applicable suspension period for reckless driving is a minimum of 10 days and a maximum of six months.
Let Us Help You Today
If you need legal help with reckless driving in Virginia, it can be decidedly productive to contact an accomplished Leesburg reckless driving attorney. The attorneys at Simms Showers LLP understand how to mount an effective criminal defense against various types of charges, including reckless driving. If you are facing criminal charges, contact us today for a free initial consultation.
Resource:
wtkr.com/news/unlicensed-18-year-old-arrested-after-high-speed-chase-on-i-64-ends-in-hampton
https://www.simmsshowerslaw.com/exploring-another-four-versions-of-reckless-driving-in-virginia/