Bank Robbery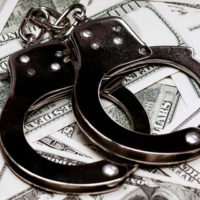 A Hampton, Virginia, Wells Fargo was recently robbed on a Saturday morning. The suspect, who is still at large, entered the bank, implied that he was armed with a firearm, and was given an undisclosed amount of demanded money, as reported by ABC 13 News Now. Bank robbery has always been a serious crime, and the rise in bank robberies only means that the courts are seeking to hand out larger punishments. In fact, bank robberies rose by 3.5 percent in 2015 alone, according to the ABA Banking Journal. Penalties for robbing a bank vary, depending on the specific circumstances. For instance, causing harm or even causing a person to fear harm from a deadly weapon will result in a more harsh charge and sentence. Just three percent of 2015 bank robberies involved physical violence, according to FBI data.
Entering a Bank While Armed with Intent to Commit Larceny is a Class 2 Felony
As per Virginia statute 18.2-93, entering a bank, armed with any deadly weapon, with intent to commit larceny is a Class 2 felony, punishable in Virginia by at least 20 years in prison and up to life incarceration. A deadly weapon includes a firearm, knife, bludgeon, bomb, sword, or any other device that is likely to cause serious bodily injury or death in the manner that it is intended to be used in the commission of the crime. For instance, a hammer or pair of scissors can constitute a deadly weapon in the robbery of a bank.
Federal Charges
Robbing a bank can also be charged in federal court. According to 18 U.S. Code § 2113, a charge of bank robbery in federal court is punishable by up to 20 years in prison, and is defined as:
Entering or attempting to enter any bank with the intent to commit any felony affecting that bank; or
Taking or attempting to take, by force, intimidation, or violence, any property or money that the bank possesses.
Under this statute, the following are considered banks: a bank, credit union, savings and loan association, or any part of a building associated with them.
The Threat of Presenting a Firearm in Any Type of Robbery
Aside from bank robbery, the commission of any robbery with the threat of presenting a firearm or other deadly weapon is a felony punishable by not less than five years in prison and a maximum of life behind bars, as per Virginia statute § 18.2-58. The following actions while committing a robbery are also similarly punishable under this statute:
Partial strangulation or suffocation;
Striking or beating;
Other violence to the person;
Assault;
Putting a person in fear of serious bodily injury or death;
Call a Loudoun County, Leesburg, Winchester, Fairfax, and Prince William Attorney Today

If you have been charged with any type of robbery, whether armed, unarmed, against a bank, or against an individual, do not hesitate to contact the Leesburg, Virginia attorneys of Simms Showers, LLP at 703-997-7821 today. We are prepared to assist you with your case.
Resources:
vacode.org/2016/18.2/4/5/18.2-58/
13newsnow.com/news/local/mycity/hampton/police-searching-for-bank-robbery-suspect-in-hampton/409524851
bankingjournal.aba.com/2016/06/fbi-bank-robberies-rise-in-2015/
Disclaimer: This legal alert is provided for general information purposes only and is not a substitute for legal advice particular to your situation. No recipients of this memo should act or refrain from acting solely on the basis of this memorandum without seeking professional legal counsel. Simms Showers LLP expressly disclaims all liability relating to actions taken or not taken based solely on the content of this memorandum. Please contact Caleb Kershner or Ben Mann at cak@simmsshowerslaw.com, wbm@simmsshowerslaw.com, or (703) 771-4671 for greater details concerning how this information may affect you.