Virginia Man Charged With Weapon Offenses After Shooting In Sterling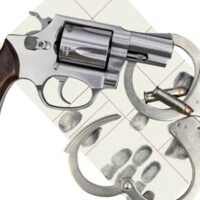 Law enforcement arrested a nineteen-year-old Virginia man for several weapon offenses after an alleged shooting, according to an article by the Loudoun Times-Mirror.
The incident in question occurred on Saturday, February 20 at approximately 5 p.m., when deputies from the Loudoun County Sheriff's Office responded to reports of gunfire near Commerce Street and East Holly Avenue in Sterling. The deputies established a perimeter around the area and later apprehended the nineteen-year-old suspect and recovered a firearm at that time. Given the circumstances of this alleged incident, the suspect faces criminal charges for aggravated malicious wounding and use or display of a firearm in committing a felony.
Given the severity of these criminal charges, it seems like an appropriate occasion to review several Virginia laws and penalties that could come into play.
Aggravated Malicious Wounding
Code of Virginia Section 18.2-51.2 provides the state laws against aggravated malicious wounding. Under this section, it is illegal for any person to:
Maliciously shoot, stab, cut, wound, or otherwise harm a victim;
With the intent to maim, disfigure, disable, or kill; and
Inflict permanent and significant physical impairment on the victim.
Any person who commits aggravated malicious wounding in violation of Section 18.2-53.1 will face Class 2 felony charges in Virginia. If convicted, the punishment for this offense can include criminal fines up to $100,000 and a prison sentence of 20 years to life.
Use or Display of Firearm in Committing Felony
Code of Virginia Section 18.2-53.1 details the state laws against use or display of a firearm while committing — or attempting to commit — certain felony crimes. Under Section 18.2-53.1, these felony crimes include:
Murder;
Rape;
Forcible sodomy;
Inanimate or animate object sexual penetration;
Robbery;
Carjacking;
Burglary;
Malicious wounding;
Malicious bodily injury to a police officer;
Aggravated malicious wounding;
Malicious wounding by mob; or
Abduction.
If a person commits, or attempts to commit, any of the criminal offenses above while using or displaying a firearm, it is a separate offense from the initial crime. In other words, a person can face charges for multiple felony crimes, if they used or displayed a firearm during the offense.
A violation of Section 18.2-53.1 is punishable as a felony crime. The precise penalties change based on the number of previous convictions, if any. Consider the following penalty structure:
First Offense — The offender faces a mandatory minimum sentence of three years in prison; or
Second or Subsequent Offense — The offender faces a mandatory minimum sentence of five years in prison.
The punishment for a violation of Section 18.2-53.1 runs consecutively with the penalties for the felony crime in question. Stated otherwise, the offender must serve both punishments, one after the other, rather than simultaneously.
Do You Need Legal Help?
If you need legal assistance with charges for aggravated malicious wounding or another felony, the Leesburg criminal defense lawyers at Simms Showers LLP can begin mounting a solid defense. Reach out to us today for more information.
Resource:
loudountimes.com/news/sterling-19-year-old-charged-with-shooting/article_3f656aca-7523-11eb-aad7-f789f2368b9a.html