Caleb A. Kershner, Esq.
Partner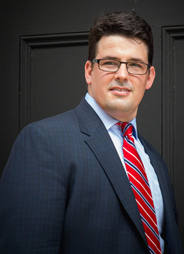 A former prosecuting attorney (Assistant Commonwealth Attorney) in Loudoun County, Virginia, Caleb A. Kershner has litigated hundreds of bench and jury trials. He uses that experience to help his clients in criminal, personal injury, and various other civil cases. Caleb Kershner became a partner at Simms Showers LLP in 2013, and has expanded his legal practice throughout the Northern Virginia region.
Caleb Kershner is a dedicated member of the community where he is active in his church, the George Mason Law School Alumni Network, and does charity work with local disadvantaged youth.
He has handled many high profile matters including those listed below.
Washington Post: Loudoun deputy who body-slammed handcuffed man is convicted of assault
Video showing former Loudoun Co. deputy body-slamming suspect released
NBC Washington: NoVa Businessman Took Company Money to Buy Car, Watercraft, House Decor, Feds Say
Read more about Simms Showers LLP.
Practice areas
Criminal law
Personal injury
DUI/drunk driving
Traffic violations/speeding tickets
Other practice areas:
Business law
Civil litigation
Contracts law
Employment law
Non-profit law
Admissions and memberships
Virginia, 2006
United States District Court, Eastern District of Virginia, 2010
United States District Court, Western District of Virginia , 2012
Loudoun County Bar Association, 2006
Young Lawyers Association of Virginia
Christian Legal Society
Education
George Mason University, J.D., 2005
George Mason University, B.S., Finance, 2001 with Distinction
Social Media
Contact the Leesburg Attorneys at Simms Showers LLP today
We offer a FREE PHONE CONSULTATION for criminal or personal injury cases. Contact Simms Showers LLP for quality legal counsel today.