Josiah Aden
Receptionist and Legal Assistant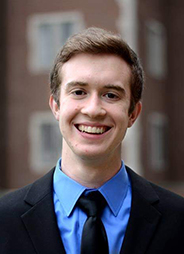 Josiah works as the front-desk receptionist and legal assistant for Simms Showers. Josiah is a 2019 graduate of Grove City College with a double major in English and History. Josiah's eventual goal is to find work as an editor in an academic or non-profit setting. For now, he has been enjoying his work and anticipates a long-term relationship with Simms Showers.
In his current capacity as front desk receptionist, Josiah wears a number of hats. Each day may find him doing any or all of the following: answering and making phone calls, sorting and sending mail, editing legal documents, drafting articles, ensuring clients are well-caffeinated and ready for their meetings, taking payments, archiving files, and closing the office at the end of a busy day.
Josiah enjoys listening to and learning about classic rock, blues, and indie-pop music, playing piano, teaching himself guitar, reading classic novels and history magazines, and saving enough money to visit his friends scattered across the world, from Japan to Scotland to Seattle to Pittsburgh to St. Augustine.